How to choose a Nightstands that suits us?
I believe that many people like to put a bedside table next to the bed, and the same is true for me who likes to read books. We can put our favorite books or snacks, white water, etc. next to the bedside table. This article will focus on the following four aspects come to tell you in detail how to choose a nightstands that suits us.
How to choose a nightstands that fits us
Recommend 8 best nightstands
Classification of common nightstands
People also ask these qustions
How to choose a modern nightstands that fits us
Confirm the most suitable height
In general, if your cheap nightstands are about the same height as the top of your mattress, it's the right height. But this height value does not need to be too strict, it is normal to be higher or lower than 15cm. People's usage habits are different, and the way they contact the wood nightstand is also different. If you are more likely to access items from the night stand table while lying on your side, then obviously a tall bedside table is not suitable. If you also like to read on the bed, then you'd better pay attention to the height of another place - the bottom of the lampshade of the reading lamp placed on the bedside table should be higher than the height of the shoulders of the person in the reading room on the bed. This ensures that the reading light provides enough light for the pages you are reading.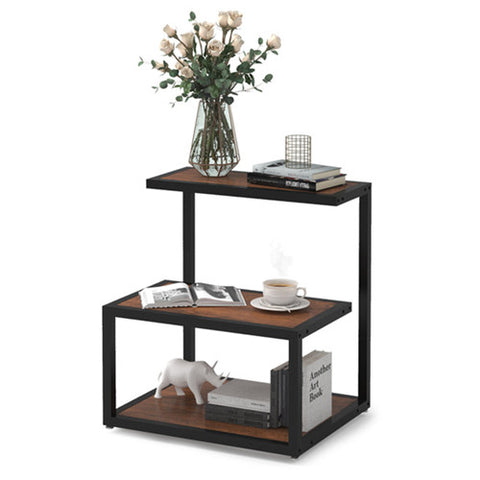 Confirm the required storage area
In addition to the right height, you have a lot to consider. The storage area we are talking about here refers to the area of ​​the platform that is open to the outside and is very convenient for us to take things at any time. The fewer things you need to put, the smaller the storage area you need naturally, and the more styles you can choose from.
Confirm material and color
The material and color of the bedside table will naturally have an impact on the style of the bedroom, but in today's article, we don't want to suggest anything. Anyway, the various beautiful bedside tables in the whole article will also give you a lot of inspiration.
Materials and colors are not just about aesthetics
When you need a bedside table to support heavy lamps or store bulky items, it's better to choose a more solid material, and its color and material will also directly affect the lighting environment of the bedroom. Light-colored, glass or shiny metal bedside tables can bring extra brightness to your bedroom, while dark, non-reflective bedside tables can help you absorb excess light and balance the color intensity of the space. 
Confirm the required storage space
Adequate storage space is not necessary for small nightstand, because a storage platform has satisfied many people's usage habits, so many people choose to use chairs, stools, small tables and other products without closed storage space. But for people who like tidy, or for homeowners who are using a small apartment, it is not a bad choice to increase the storage space.
Confirm width
The width of the night stand set is not limited by the usage habits, but is determined by the real area of ​​the space.
After all, the distance from the center of the bed is inconvenient to reach when we sit on the bed, but it can be used to place the items we need when walking around the bedroom, or as a fixed decorative corner.
Recommend 8 
 best nightstands
Tribesigns Nightstands with Drawers, End Table with Storage Shelf
【Unique Vintage Design】:Inspired by the pursuit of a relaxing and elegant life, clean-lined design with rustic veneer board creates a touch of elegant sophistication and adds a touch of vintage industrial style to your living space
【Sufficient Storage Space】:Not only is this Gold Nightstand incredibly stylish, but it's also very practical, with concealed and open storage to keep your room organized. Features a drawer and middle open shelf, Convenient for you to store magazines, mobile phones private belongings, etc
【Fine Workmanship】The gold nightstand use E1 environmental protection board and Heavy-duty metal frame, With delicate lines and fashionable structure. Besides, Scratch-resistant and water-resistant, easy to clean and wash
【Multipurpose Nightstand】 Not only a nightstand but also the ideal as an end table, side table in the living room. This small square table also can be used as a lamp table, entry table, corner table, end table
【Buy with Confidence】 Assembly required: Hardware, tools, and instructions included (Our products come with 18 months of quality assurance and friendly customer service)
$89.99
Tribesigns 3-Tier Vintage Bed Side Table Night Stand, Industrial End Table
[Industrial Chic Style] Give your home a taste of industrial inspiration with a clean-lined end table. Founded atop a steel frame, it strikes an open silhouette that emphasizes its industrial side, relying on manufactured wood tops to bring in a little natural appeal with a grain finish.
[3-tier Storage Capacity] Add more storage space to your living room with this 3 tier rustic end table. The top shelf keeps living room essentials effortlessly on hand or provides a perch for the table lamp, photo frame, or a steaming cup of chamomile while the lower shelf stow away magazines, books, baskets, or something like that.
[Versatile in Nature] With a simple style and natural finish, this chairside table blends in well with any environment and setting. Whether sidled up beside your sofa or acting as a nightstand in the master suite even side table in a reception room, this end table is always an eye-catching stage.
[Reliable Construction] The narrow telephone end table was crafted from manufactured wood and thickened metal tube ensure its durable construction and it will dress up your home for years to come
[Easy assemble & Hassle-Free Purchase] All hardware and instruction are included in the package. Plus, we provide professional and friendly after-sales service.
$99.99
Tribesighs Tall Nightstand with 2 Drawers & Storage Shelves
Tall Nightstand with 2 Drawers: The modern nightstand is featured with 2 easy-glide drawers, creating private space for your daily important essentials. 19.68" L* 15.74" W spacious tabletop perfect for bedside storage, which keeps the coffee cups, glasses, phones, photo frames and bedtime reading with easy reach. Keep your bedroom or living room tidy and organized.
2-in-1 Multifunctional Bedside Table: This simple and modern night table combination of 2 large drawers and 2-tier open shelves. Overall dimension: 19.68"L * 15.74"W * 47.24"H. The large size will solve all your storage problems, which is suitable for the bedroom, living room and entrance/entryway, etc.
Modern Storage Bookshelf: Different from other small shelves, our Tribesigns bedside table is tall enough with 2 storage shelves to display or put different items. The smooth white surface has an elegant charming, and it is easy to integrate into your home decoration and adds an extra sense of fashion as well.
Stable and Durable Structure: The large sofa side table is made of high-quality 0.59" E1 particleboard and thicken metal frame to ensure stability and durability. The covering layer on the surface makes the end table has waterproof and scratch-proof characteristics, allowing you to clean it very easily and conveniently.
Easy Assembly and Customer Service: All labeled pieces and tools are included, strictly following the directions, it is easy to assemble. If you have any problems with our products, you can directly contact us, we will provide you with 18 months free warranty and a professional customer service team.
$169.99
Tribesigns End Table, Industrial 2-Tier Side Table Nightstand
Simple Yet Eye-Catching Design - With stylish and clean lines, this side table blends in seamlessly with any decor style, creating a warm space that is both simple and attractive. This piece of furniture nestles gracefully into the gap between your bed and wardrobe and serves as a nightstand. Thanks to its slim dimensions, it also fits perfectly next to your sofa or in a corner of your kitchen.
Made to Last - The tabletop has a chunky square silhouette with a 1.97'' thick edge and a robust X-shaped steel frame make a solid construction for this bedside table, being able to hold to most of the items on the surface and the lower shelf. This end table can be used as a couch table, coffee table, snack table, sofa side table, living room side table, or nightstand, etc.
Non-Skid Feet & Waterproof - Equipped with 4 super large footpads, this multifunctional coffee table can protect the floor from scratches, also your tiles, linoleum, and wood floors; Add extra stability and avoid wobbles. In addition, the water-resistant panels can be easily cleaned with a damp cloth for an always fresh look.
3-step Assembly & 100% Warranty - Simple square shape makes the nightstand easy to assemble with instructions and hardware included. You'll finish assembling it in 3 steps, easier than ever. Tribesigns provide a 1-year warranty and professional and friendly customer service before and after your purchase. Don't hesitate and enjoy it today.
$65.99
Tribesigns Industrial End Table, Side Table with Z-Shaped Metal Frame
Minimalist & Modern Design】Combing rigid steel and retro finish, the style of this end table sets the tone for industrial space. The clean-lined silhouette and Unique Z-shaped metal frame offers a dramatic focal point when your friends come.
【Versatile Accent Table】Whether placed next to the sofa or used as a nightstand for bedroom, this table is always a perfect addition to any seating group. Also, you can use 2 sets of end tables as a small coffee table for small space.
【20 Inch Square Tabletop】Serve teas and desserts next to the sofa and brighten your living room, or support a lamp or plant in your bedroom...we are confident you will love the ambiance it offers your space.
【Thicken Board & Sturdy Frame】Measuring 1.57-inch thick MDF, the bedside table features waterproof and scratch-resistant. And the high quality of powder-coated steel frame ensures excellent stability and durability.
【Easy to Move & Assemble】A lightweight and portable structure is easy to transport in any corner you need. With numbered parts and detailed instructions, you can have the rustic end table assembled under 15 minutes
【Risk-Free Purchase】If you have any problem about our Rustic Side Table, please feel free to contact us. Tribesigns offer 12 months quality assurance and lifetime professional customer service.
$79.99
Tribesigns Nightstand Tall Side Table, Modern Simple Style End Table
Simple and Minimalistic: Features a clear tempered glass top paired with the black metal frame give a charming modern look to this nightstand, perfect combination with other furniture accessories and adding elegance to your bedroom and living room.
Night Stand with Drawer and Shelf: The single drawer has metal glides for easy access to your nightly essentials. The surface on this nightstand is the ideal spot for a small lamp or framed photo and the open metal base provides a large space for holding your nighttime essentials.
Versatile Uses: It is more than a nightstand, it is designed to fit in your space, can be used as a functional end table, small coffee table, or side table to your living room and Reception room.
Trustworthy Quality: Built from a powder-coated metal frame, E1 particleboard, and tempered glass, the nightstand is sturdy, high-quality, and also environmental. The load capacity of the glass top is up to 77 lb. It's a fashionable and sturdy sofa side table for everyday use.
Easy Assemble and Convenient: The lighter weight allows you to move it to the room or living room. Simple structure makes installation easier, and the package includes easy understand instructions and assembly kit. We are always here to provide friendly customer service.
$119.99
Classification of common 
nightstands
Extended drawer storage bedside table
This bedside table has four drawers side by side, which can be moved and can hold a lot of items;
Movable drawer bedside table
it is equipped with casters, which is very convenient to move, and some small objects that are not too far away from the body can be kept by the side;
Single-layer drawer bedside table
It can display accessories and has a good storage capacity. According to actual needs, it can also be transformed into a small TV cabinet. The price is between 300 yuan and 2,000 yuan. At the same time, the scope of the bedside table is also gradually expanding, and some small coffee tables and tables have also become new scenery at the bedside.
Open bedside table
There is no closed storage box, but there are exposed display shelves. The curved shape is made of solid wood, and the contrast of two colors, one red and one white, is a bit more fashionable than the traditional square bedside table.
People also ask these questions
What is the purpose of a wood nightstand?
They are often used to support items that might be useful during the night, such as a table lamp, alarm clock, reading matter, cell phone, eyeglasses, tissues, sex toys, a drink, or medication.
What do people usually put in bedroom nightstands?
Some additional items include an alarm clock (one that doesn't emit bright light), your phone (if you must), tissues, a carafe of water and a notepad and pen (for jotting down ideas, things you want to remember to do, or your dreams).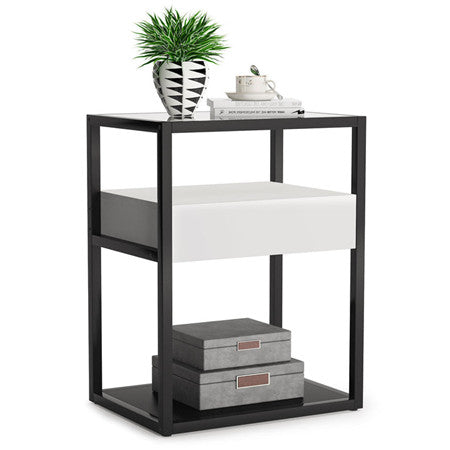 How do you decorate the top of a metal nightstand?
Add a set of 2-3 frames with your own art or photography or add artwork that embodies the color palette of the room in a subtle way. Add fresh or faux floral to liven up the look and give it life. If you use art above the nightstand slide the lamp to the left or right of the art piece so you can see all its beauty…...
What do you put on the bottom shelf of a wood nightstand?
Place a decorative basket or canvas storage container on the shelf so that you can tuck away pajamas or tissues. Use the shelf to display decorative items, such as a small sculpture or cool vase. Stack your favorite pre-bedtime books or recent issues of magazines on the bottom shelf so that they're within easy reach.
What is a nightstand used for?
They are often used to support items that might be useful during the night, such as a table lamp, alarm clock, reading matter, cell phone, eyeglasses, tissues, sex toys, a drink, or medication.
What is the difference between a bedside table and a nightstand?
A nightstand is typically defined as a small, low bedside table that usually has drawers. A bedside table is defined as a small table beside a bed.
Can a cheap nightstands be shorter than the bed?
They absolutely can be different heights! Nightstand sellers need to be able to accommodate a variety of bed heights. The average height of a nightstand is 24"-28" inches, but they can be over 30".
This article tells you more information about modern nightstands from four aspects and I hope it can really help you.