20 Plant Stand That Makes Your Home Unique
If you want to say goodbye to the difficulty of choosing a plant stand and choose a plant stand that you are satisfied with, you can read this article and it is enough!
If you want to add some fun to your home, you can raise some flowers and plants, but how to solve this problem with limited space? Just choose to buy some plant racks that fit your home size and style to display your carefully cared plants.
But when choosing a balcony plant stand, you may encounter the same problems as me:
What material is the balcony flower stand?
Is the balcony flower stand easy to install?
What is the appropriate size for balcony flower stand?
People also ask these questions
Next, I will introduce the various knowledge of balcony plant racks in detail. After reading this article, you will gain:
Style  
According to the different styles of home decoration, the styles can be roughly divided into:
①Simple style
For the overall simplicity of the home, the combination of plastic or wood is very suitable.
②European style
For the overall European style of decoration, you can choose metal plant stands, such as wrought iron plant stands are more common.
③farmhouse style
For the overall style of the decoration, there are more choices, it can be a combination of plate and metal, or it can be all wood.
Furniture color
Before every family is just renovated, they will determine the style of the overall home decoration. The newly renovated new house and new furniture have added a lot of light to the living room, bedroom and other places.
As a flower stand, you should choose a outdoor plant stand that is closer to the color of the living room. If the color of the plant rack is different from the main color of the whole furniture, it will look awkward.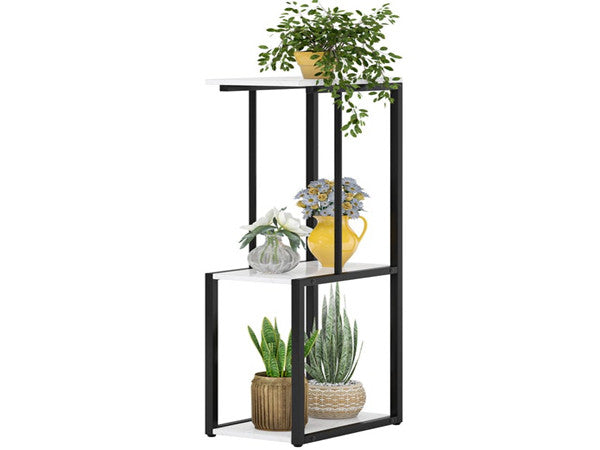 Garden size
It is especially important to determine the location of the tall plant stand according to the space in which the plants are placed in the home. If you buy a big one, you can't put it in the place, and if you buy a small one, you will be stingy, so the size of the area determines the size and quantity of the plant shelf we buy.
Plant size
It is also important to measure the size of the metal plant stand to buy a shelf that fits the plants just right. In order to avoid the situation that it cannot be put into the flower pot.
Material
①metal
The common plant frame material should be metal. In order to prevent the iron from rusting after being exposed to wind and rain, some improvements have been made. The surface is treated with high temperature baking paint, so that it will not fall off, fade or deform.
②wooden
Buying solid wood plant stands is more common in ordinary families, because there are many types of solid wood, such as bamboo, pine and so on.
Generally speaking, the plant stand made of solid wood is hard and firm, can be assembled and disassembled at will, and adjusted with hardware accessories.
Moreover, solid wood plant stands have stronger load-bearing capacity than plastic flower stands.
③plastic
Compared with iron plant stands, plastic plant stands are not easy to rust and rot, and their disadvantage is that they cannot bear excessive weight.
Plant shape
Home grown flowers and plants can generally be divided into vines and uprights.
①Vine plants
Vine plants, because of their slender necks, cannot stand upright and can only be attached to other objects, so choose a hanging type plant stand when purchasing a plant stand.
②Upright plants
For the growth of ordinary plants that can stand upright, choose a stepped type when purchasing a plant stand.
Installation method
One is the hanging plant stand, which is usually hung on the wall or in the air, mainly to utilize the space;
Another type of tall plant stand indoor is the stepped plant stand, which can be moved on the ground. This plant stands indoor is widely used, and it is a must-buy for most families.
Below are some recommended plant stands of various sizes for your reference.
Small Size Fit in Anywhere
The size of the plant stand is H38.58 * W11.02 * D13.39 inches. It can fit anywhere in your home. You can put it in the living room, balcony, hallway, etc. Put some plants or flowers on it to decorate your home.
Faux Marble Veneering Board
The board is manufactured wood with white faux marble veneering. This matches with the black metal, the whole flower stand is in modern and simple style. The flower pots holder suit any home style.
Suit for Different kinds of plants
The plant shelf can hold 6 pots at the same time. Each shelf height is 19.68 inches, so you can put some tall plants or flowers on it. On the top of the shelf, you can put some plant that the stolon falls down.
Size:13.39 x 11.02 x 38.58 inches
$69.99
HOGA-U0068
Tribesigns 5-Tier Plant Stand Pack of 2
[Multi-Layer with Large Storage]
Get organized as you tuck your essential supplies with a double 5 tier plant display shelf. Each display is designed with 5 layers to meet your different storage needs.
[Creative Design Fits Well in Any Occasions]
The display stand with a curved design is a perfect way to make the most of your space also is sure to be the perfect addition to your living room, patio, balcony, indoor garden, or other home places, assisting you to decorate and organizer your place effortless.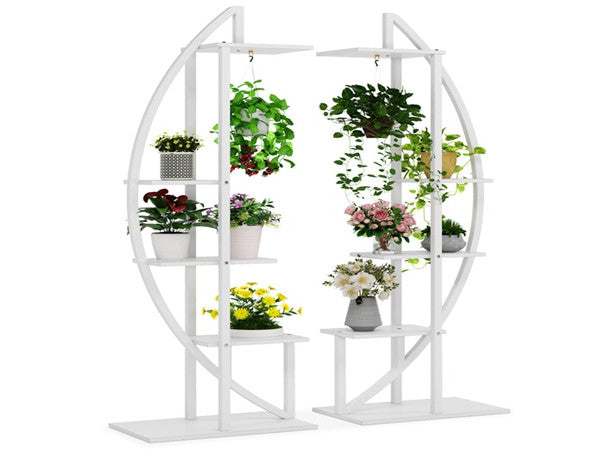 [Reliable Construction]
Made from manufactured wood particleboard and stoving varnish painting metal frame, this budget-friendly piece construct this sturdy and scientific construction of curved, it can afford heavy items but occupy small areas.
Size:39.4 x 11.8 x 63 inches
$199.99
HOGA-F1243
【Multi-Tiered Plant Stand】
Add a little green to your space with a pair of our plant shelf. The step shelves with a curved design add to the visual appeal of this piece. Not just for plants, this shelving is also suited for books, décor, flowers, towels, toys, knickknacks, or collectibles.
【Super Sturdy & Durable】
Crafted black-finished metal frame with manufactured wood shelves, it's steady, offering a modern industrial look to your home. The Weight Capacity of every shelf is up to 10 lbs. (top shelf), 20 lbs. (middle smaller shelf), 20 lbs. (middle larger shelf), and 10 lbs. (bottom shelf).
【Easy to Assemble】
Simple assembly is required to set up this flower pot holder. We provide illustrated instruction, hardware, and tools to help quick and easy assembly.
Size:60.23 x 25.98 x 6.3 inches
$209.99
HOGA-C0248
Tribesigns 5-Tier Corner Shelf, 60 Inch Corner Bookshelf Small Bookcase for Living Room
VERSATILE CORNER BOOKSHELF
Maximizes corner space in your living room, bedroom, home office, kitchen, balcony, or den with this 5-tier corner shelf unit, which can also work perfectly as corner storage, small bookcase, outdoor plant stand, or display rack to help clear up the clutter
5 TIER OPEN SHELVES
This small corner shelf has 5 fan-shaped tiers that narrow in size to fit seamlessly in any corner to provide enough storage space to store or showcase your photo frames, books, decorative pieces, potted plants, and other knickknacks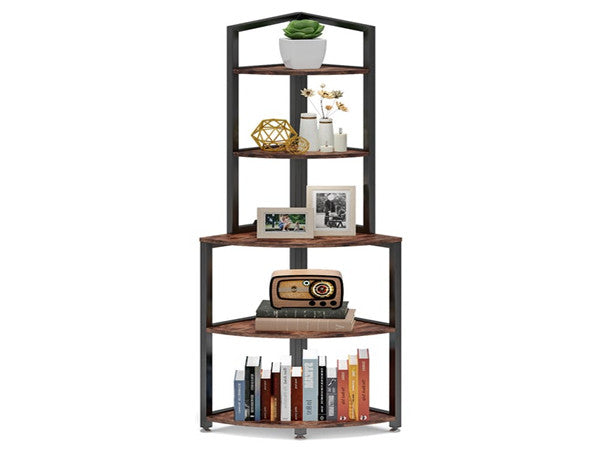 STYLISH AND AESTHETIC
This corner display shelf not only offers an elegant storage solution for any room in your home but also brings a charming touch to blend well with your home decor, it's a great way to save on space without skimping on style
Size:15.74"D x 15.74"W x 60.23"H
$95.99
HOGA-F1277
Tribesigns 5 Tier Corner Shelf, Rustic Corner Storage Rack Plant Stand Small Bookshelf
【Large Storage Capacity Yet Space Saving】
5-Tier shelves design makes good use of any limited space or odd corner to provide additional storage space for small items or knickknacks
【Solid Construction, Large Weight Capacity】
The corner stand is made of thick board & a sturdy metal frame that ensures stability and durability. The standing shelf is tough enough to hold heavy-duty goods like kitchenware, small aquarium
【Safe Round Edge & Freestanding Design】
Smooth round edge protects you and your family from getting scratched. 90° right angle in the rear gives it the ability to stand freely or sit flush against a wall perfectly
Size:11.8"D x 11.8"W x 59"H
$129.99
HOGA-C0054
Tribesigns 5-Tier Indoor Plant Stand Pack of 2,Heart-Shaped Flower Pot Holder
【Creative Heart-shaped Design】
Unique and ingenious design, our tall plant stand with features can be a perfect accent in your space in different ways. Interlaced space design provides a diversified allocation to meet the needs of different plants and unique visual enjoyment.
【Multi-layer Plant Display Shelf】
The plant display rack is designed with five layers, which provide ample storage and display space for up to 12 pots of plants. with opening design, no shelter from each other, helps plants get enough sunlight for growth. Top hooks can be used to hang plants.
【Sturdy and Stable Structure】
Crafted from a heavy-duty metal frame and E1 particle board, strong and durable, easy to care for and wipe. Besides, the thickened bottom board could potentially handle more weight without the worry of tipping and, the bottom of each layer shelf is reinforced with screws, which enhances the load-bearing capacity.
【Easy Assembly & Buy with Confidence】
Every piece is labeled and all hardware, tools with instructions are included in the package for easy assembly. (Our products come with 18 months of quality assurance and friendly customer service.
Size:21.25 x 9.94 x 60.62 inches
$189.99
HOGA-F1445
Tribesigns Tower Bookshelf Bookcase, Modern 5-Tier Ladder Shelf
【Modern Simple Design】
Bring a touch of modern charm to your living room, den, office, and beyond, while providing a place to perch potted plants, framed family photos, vases,s and more with this stylish and minimalistic tower shelf.
【Large Storage Capacity】
Five rounded shelves ascending in size from top to bottom, offer different storage space for displaying vases, picture frames, leafy plants, storage boxes, etc. This corner shelf is always in full play for any room.
【Practical & Multipurpose Use】
This shelf is suitable for any room and is always in full play. Place this corner shelf in the living room to display eye-catching handiwork and family pictures. Use it as a plant stand on the balcony to display your plants and flowers under the sun while creating a peaceful corner. Put it in your dining room to place a toaster, coffee machine, bowls, dishes, etc.
【Easy to Assemble】
All parts, hardware, and detailed instructions are included in the package. Labels on the parts are helpful for assembly. Follow the instructions, it'll take 20 minutes to assemble.
Size:18.9"D x 18.9"W x 63.39"H
$99.99
HOGA-U0058
Tribesigns 63 Inch Tall Corner Shelf Stand, 5-Tier Bookshelf
6-tier Storage, Limited Places Savior
7- The rustic brown shelves will match any room and are an ideal choice for small corner space, fully releasing the storage space as much as possible.
Safe Round Edge & Freestanding Design
Smooth round edge protects your family from getting scratched while the smooth rear gives corner shelves for the living room the ability to sit flush perfectly against any wall instead of sharply hurting the wall.
Multifunctional Shelves
Corner stand shelf can be used as a floor corner shelf, corner bookshelf in the living room; a corner kitchen shelf in the cookhouse; a narrow nightstand for the bedroom; a corner level corner plant stand, plant decor on the balcony.
Stable Construction
With 5 legs standing, the bathroom corner shelf stand won't wobble at all, and each shelf holds up to 33.07 lbs, let alone the an-ti fall kit included, keeping your safety all the time.
Size: 15.75" L x 15.75" W x 63" H
$109.97
HOGA-U0069
Tribesigns 3 Tier Corner Shelf, Multi-Purpose Shelving Unit, Marble Storage Rack with Metal Frame
Corner Designs
This planter has a corner design, which is very space-saving. Decorate any of your rooms with plants or decorations in this unit, which only takes up space in one corner. It can be placed in any corner of the room, living room, balcony.
3-Tier for Plant Display
4-Three different-sized fan-shaped shelves arranged vertically from top to bottom can perfectly display your different-sized potted plants. The iron shelf design and marbled pattern can set off your plants in a more ornamental way.
Stable Shelving Unit
High-strength steel poles and high-grade MDF board for enhanced durability, the trapezoidal structure makes it more stable. The bottom 3 adjustable foot pads increased the stability of this corner stand.
Easy Assemble
The lightweight allows you to move it to the room or living room. The package includes easy understand instructions and an assembly kit, which makes installation easier.
Size:14.96"D x 22.83"W x 34.06"H
$59.99
HOGA-J0005
https://www.homary.com/item/1500mm-modern-ladder-7tiered-plant-stand-in-gold-white-20100.html
59.1" Modern Ladder 7-Tiered Plant Stand in Gold & White
Made from stainless steel construction, this durable piece is sturdy enough to last for years to come yet stylish enough to accentuate your current decor beautifully. The 7 tiered shelves are perfect for all of your favorite flowers and plants. Display individually potted plants on the 7 tiered shelves for a welcoming feel to your space.
- Material: Stainless Steel, Manufactured Wood
- Color Options: White, Gold
- Size Options: Large
- Overall Dimension: 23.6''L x 15.7''W x 59.1''H (600mmL x 400mmW x 1500mmH)
- Assemble Required: Yes
$169.99
Tribesigns Small Bookcase 5-Tier Shelf Storage Rack for Home Office
【VERSATILE SHELF & SPACE SAVING】
Take advantage of every corner of your abode with this corner shelf, ideal for living room, bedroom, kitchen, dining room, office, bathroom, small apartments. This shelving unit can be used as a corner bookshelf, corner storage rack, corner display shelf, kitchen stand, plant stand.
【SQUARE SHELVES & AMPLE STORGAE】
This corner bookcase features 5 open squared shelves, larger than a traditional triangular corner shelf, providing more space for your books, documents, knick-knacks, plants, or other favorite decorative objects. It can also organize your towels, toiletries as a bathroom shelf. Each rack can hold up to 20 lbs.
【STURDY BASE & MORE STABLE】
Upgraded rectangular shape improves the overall stability. Crafted from high-strength engineered wood, it is durable for years and easy to clean. 0.98"x0.98" heavy-duty metal frame keeps the corner stand shelf sturdy enough and loads up to 110lbs.
【A HIGHLIGHT CORNER STAND】
Standing 14"L x 14"W x 59"H, the metal-coated frame is constructed from vintage wood veneer and showcases a beautiful finish for a look that fits right into your existing ensemble. This freestanding shelf can be moved easily and placed everywhere.
Size:13.77"D x 13.77"W x 59.25"H
$109.99
HOGA-F1355
Outsunny 2-Level Wooden Garden Plant Stand with Climbing Vine Trellis & Fir Wood Construction for the Backyard - Brown
- UNIQUE TRELLIS FRAME: This raised garden bed features a beautiful trellis so that climbing plants can climb onto the grid and be fully displayed. Also, the trellis can hang small flowerpots or small tools
- 2 LAYERS DESIGN: The planter stand has 2 layers of shelves so that plenty of herbs and flowers can be displayed. More importantly, each plant can receive great sunshine and grow better
- SOLID CONSTRUCTION: The full solid wood frame with strong metal fittings of this garden stand is sturdy enough to hold your small flower pots, climbing vines, and small tools. The slatted design ensures quick drainage
- INDOOR/OUTDOOR: The brown fir wood frame of the plant display looks amazing in your garden, matching the natural aesthetic. Plus, it's strong for plenty of seasons to come.
- RAISED PLANTER STAND DISPLAY DIMENSIONS Overall Dimension: 23.5''L x 16.25''W x 46''H. Max. Load of Each Layer: 88 lbs.
$109.99
Tribesigns 6 Tiers Bookshelf, Industrial Ladder Shelves Racks
Special Shelf Design
The storage shelving unit features its unique shelves. Most shelves have not fulfilled the frame, it takes half of the frame. This design makes the shelves racks have a special outlook.
Multifunctional Usage
The shelves racks can be the bookcase, flower stand, display racks, etc. It is free-standing, you can put it in the living room, balcony, study room, or anywhere you want.
Solid Structure
Each shelf is attached to the frame via screw tightly. The bearing capacity of the shelf is 20 lbs. The board and the metal are thick. Besides, the board is easy to clean and waterproof.
Simple and Modern Style
The whole design is simple and not complicated at all. These bookshelves can go well with most home styles. It can be a home decoration, and at the same time provides big storage space.
Size:11.81"D x 30.71"W x 55.1"H
$99.99
HOGA-XK00028
Stable Sturdy Durable Bookshelf
This bookcase is constructed by a high-quality E1 grade premium safe particle board+iron tube frame. The robust mix of sturdy iron and hard-wearing engineered wood gives the bookshelf a high degree of stability. Stable sturdy durable storage rack standing shelf.
Spacious Industrial Bookcase
Bookshelf features many shelves that expand space, used for storing and organizing your books, magazines, photos, toys, collections, or potted plants, making your stuff neat and tidy.
Nice Looking Bookshelf with Vintage Industrial Style
The concise design abounding in sense of art offers an industrial aesthetic feeling. It's a good decor for home, living room, bedroom, office, kitchen, coffee bar, book shop, etc. It could combine with any decor style without conflict but only leave a profound impression on others.
Easy to assemble
This bookshelf is very easy to assemble. Comes with a user manual to help you assemble the standing bookshelf quickly and easily.
Size:35.04 x 14.37 x 5.51 inches
$89.99
HOGA-M0097
https://www.aosom.com/item/outsunny-5-tier-foldable-raised-garden-bed-with-leaking-holes-plant-flower-vegetable-pots~845-433V01.html?recv=eyJwYWdldHlwZSI6InNjaCJ9
Outsunny 5-Level Raised Garden Bed Plant Stand with Drainage Holes, Space-Saving Design for Outdoor Use
- MULTI-LAYER FLOWER STAND
The 5-layer garden raised plant stand bed can fully display your plants and is ideal for growing in limited spaces, such as balconies, verandas, terraces, etc.
- GREAT DRAINAGE
Each pot of this plant shelf is equipped with a drainage hole on the bottom, the included rubber plug can help conveniently control the drainage.
- SPACE-SAVING
The flowerpots can be stacked together. Quite convenient for you to store or transport when not in use.
- INDOOR / OUTDOOR USE
The steel frame and the plastic pots of the plant display are stable and durable for an outdoor area or internal living space.
- PLANT STAND DISPLAY DIMENSIONS
Overall Dimensions: 26.25" L x 28.25" W x 48.75" H. Weight Capacity of Each Shelf: 11 lbs.
$109.99
Tribesigns 5-Tier Bookshelf, Brown&Black Bookcase with Storage Rack
Distinctively HOME USE
bookcase fully epitomizes the design of vintage home esthetics. The disconnected shape with black and rustic brown has the visual separation in living space while becoming a beautiful landscape in your HOME.
Fall into Imagination
Book lovers would delight in filling the bookshelves on the bedroom, Collectors could display their valued decor to make an impression on the living room, Plant enthusiasts keep their plants organized layer by layer on the balcony.
HIGH-GRADE Materials
Made of high-quality particleboard and sturdy black metal frame, this open bookshelf is strong enough to provide better load-bearing capacity, while with the features of waterproof and anti-scratch, It makes you feel more secure in your daily life.
Fast Assembly
All components were labeled and all tools and detailed instructions were included. We recommend 2 people to install this item. If you have any problem with rustic shelves, please feel free to contact customer service at your earliest convenience.
Size:11.61"D x 40.35"W x 70.86"H
$149.99
HOGA-M0184
Tribesigns 6-Tier Corner Shelf, 70" Tall Corner Bookshelf Small Bookcase
Unique Triangle Support
Made of thicked E1 particle board and high-quality metal frame, the corner shelf on both sides are lined with triangle side braces for stronger stability, no shaking no wobbling
Ample Storage 
6 tiers design, it offers massive space for storage, ensure that there is enough space to put things, it can accommodate your books, display decoration or other kitchen appliances. The distance between the shelf: 12.79"
90° RIGHT ANGLE 
With slender vertical space-saving design and adjustable leg pads, which allows it to fit into any corner of the room. It is a great addition to your living room, bedroom, or study room.
Multifunctional Use 
This standing storage shelf has high on utility, not only a corner shelf but also as a plant stand, kitchen rack, small bookshelf and can harmonize with any other rustic furniture in any room
Size:14.2"D x 17.3"W x 70.2"H
$109.99
HOGA-JW0149
Tribesigns 5 Tier Corner Shelf, Modern Corner Bookshelf Small Bookcase
【Multifunctional Corner Storage Shelf】
This narrow shelving unit fits great in any corner of the living room, bedroom, home office, kitchen, hallway, balcony, bathroom, etc, works well as corer shelf, small bookshelf, display shelf, plant stand, flower rack for limited space
【Large Storage Capacity Yet Space Saving】
5-Tier shelves design makes full use of any limited space or odd corner to provide additional storage space for small items.
【Solid Construction, Large Weight Capacity】
The corner stand is made of thick board & a sturdy metal frame that ensures stability and durability. X braces in the back prevent things from falling down. The corner unit is sturdy enough to hold heavy-duty goods like kitchenware, small aquarium
【Safe Round Edge & Freestanding Design】
Smooth round edge protects you and your family from getting scratched. 90° right angle in the rear gives it the ability to stand freely or sit flush against a wall perfectly
Size:12.2"D x 12.2"W x 63"H
$99.99
HOGA-C0200
People also ask these questions
What can you use as a plant stand?
The most common material to build black plant stand is wood because you can build it to fit your pots and it can be painted and stained as needed. In addition you could up-cycle various thrifted items like old drawers, stools, baskets, chairs, etc to make your own large plant stand.
What makes a good plant stand?
When selecting your wooden plant stand, make sure the design matches your overall aesthetic, that they are an appropriate size and height for your plants, and that they are durable and fit for purpose. ... Make use of every space with this vertical plant stand that holds up to seven pots and has a clean varnished bamboo look.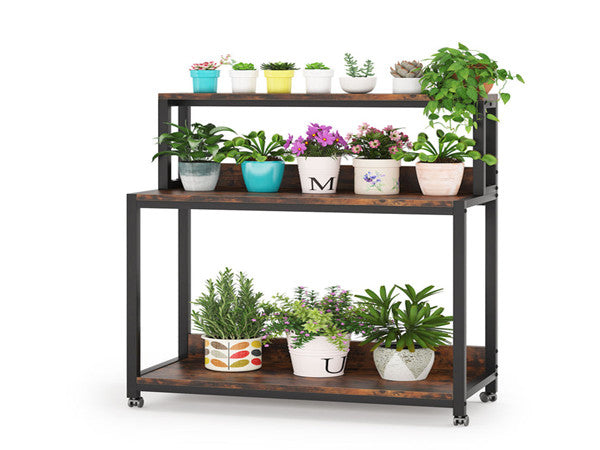 How do you pick a cheap plant stands?
Choose a corner plant stand that is sturdy enough to hold the plants you will be putting on it. Not only should the stand be able to hold the weight of the potted plants, the pots should fit comfortably on the shelves. If you are looking for a stand to be used seasonally, consider a folding stand that can be stored when not in use. 
Where should plants be placed in the house?
Most plants will be happy with a window that is either West, East or South facing. So do not look to have too many plants facing a Northerly window. There are of course plants that require partial or full shade for large portions of the day.
Which plant we should keep in bedroom?
If you're looking for a plant that filters indoor air even at night, consider adding the snake plant or aloe vera plant to your bedroom. If you're looking for a plant that eliminates odors as well as purifies the air, go for the golden pothos.
What plant helps you sleep? 
Valerian
Aside from the sweet scent, valerian plants have been used for centuries to help with sleep problems including insomnia. Inhaling the scent of valerian root has been shown to induce sleep and improve the quality of sleep. 
People also ask these questions
Where do you put a plant stand?
Use a single plant stand to elevate plants behind sofas or in the corner of the room. This is especially effective if you don't have a huge houseplant. Elevating a specimen plant will make more of a statement.
What is the point of plant stands?
A plant stand may seem to be an inconsequential object, but it can serve many purposes. Some plant stands serve as pieces of furniture or artwork in homes, giving a tasteful touch to the energy of a room. Of course, the main goal is to get the plant off the floor and onto an elevated surface of its own.
How much weight can a plant stand hold?
This small basic plant stand is a great addition to any indoor or outdoor space and holds up to a 20 pound plant. 
Are plant stands good for plants?
Plant stands outdoor are great to elevate the look of any indoor plant. They make small plants appear tall and help them make a bold statement. Here are the best Houseplants that Look Better on Plant Stands! 
What can be used as a plant stand? 
The most common material to build plant stands is wood because you can build it to fit your pots and it can be painted and stained as needed. In addition you could up-cycle various thrifted items like old drawers, stools, baskets, chairs, etc to make your own plant stand. 
Where should plants be placed in the house?
Spreading plants around the perimeter and away from the center of the room can make the space appear larger. For instance, place plants on shelves, window sills, or in corners. Hanging plants are back in style, but it's essential to find the best spot. Don't hang a plant where tall guests can bump their heads.
Which plant should be kept in kitchen?
Herbs like basil, rosemary, and oregano are an obvious choice for kitchen plants, since you can also use them while you cook. They're easy to grow indoors, and tasty, too. Looking for a plant that can tolerate almost any indoor condition? Chinese evergreen is a good pick.
Which plant purifies the air the most?
Florist's chrysanthemums or "mums" are ranked the highest for air purification. They're shown to eliminate common toxins as well as ammonia.
This article introduce the Plant Stands from many aspects and I hope it really can help you.