How to choose a TV Stand with Drawer
Whether or not you have a TV in your home, a TV stand still seems to have a need for it. Whether it is used with other audio-visual equipment, or only used for storage and storage, TV cabinets can find a place in the living room. So, how to choose a functional TV cabinet that can meet your various needs? This article will you more information about TV Stand with Drawer from four aspects.
How to choose a TV Stand with Drawer
6 good TV Stands recommended to you
Things needing attention when buying TV Stand 
People also ask these questions
How to choose a TV Stand with Drawer
1. From the appearance point of view, the design that optimizes the function is more popular

Remember that most of the cheap tv stand in the past were storage cabinets with a whole wall, and then set aside a space for the TV cabinet. Later, due to the increasing number of small units, the design began to be gradually simplified.
With the rise of LCD wall-mounted TVs, it also affects the overall design of TV cabinets. TV cabinets tend to have greater functionality in a limited space. More and more people prefer a tv stand with storage that can install audio-visual equipment and receive Storage and storage cabinets for living room odds and ends.
It can not only be used as a TV cabinet, but also have different storage areas for storage. For example, there are hidden small cabinets, drawers or open spaces, which can meet different storage and storage requirements.
Obviously, the design of the TV cabinet as shown in the figure can better meet the needs of most users for storage and storage in the living room.
2. Reasonably accommodate the messy lines of different audio and video equipment
Many people may not pay much attention when they buy floating tv stand, and only when they go home and use them, they find that many problems have come out. All kinds of messy wiring storage is a big headache.
For example, in the situation in the picture, all kinds of data lines and power lines are exposed to the outside, and it is disturbing to look at it.
For another example, although everything is hidden in the cabinet, it feels like there is still room for us to use, but nothing can be put in it. This is an inhumane design without a reasonable storage space.
As shown in the picture, the rear panel of the TV cabinet has thoughtfully designed two 5cm wiring holes, which can regulate the power supply of various data lines of the audio-visual equipment, and try to reserve enough power plugs to avoid more external power supplies in the future. If you don't want to make the cabinet look particularly messy, you can buy some small storage boxes for power lines.
3. It is also important to choose the height of the TV cabinet
Whether you use a small tv stand to put TV or other audio-visual equipment, its height directly determines your comfort level when watching, so how high should the TV cabinet be?

For example, the height of the sofa is 40 cm, and the height from the sofa to your eyes is 60 cm, which adds up to 100 cm. This is your sight height. The height of the audio and video equipment on the center of the screen on the TV cabinet cannot exceed this height. The height of the TV cabinet should be determined by the sight height of yourself sitting on the sofa, generally 30-45cm is appropriate.

Try not to choose a tall tv stand without wiring holes as shown in the picture. All exposed power lines will not only look messy, but also become a sanitary corner of your living room, making it very inconvenient to clean.

Under normal circumstances, the socket on the TV wall should be 20-25cm below the TV cabinet, and the data port behind the TV should be 45-50cm above the TV cabinet.

If there is a TV set, it is recommended to choose two positions with wiring holes in the middle of the TV cabinet and leave them empty. This can not only solve a series of problems such as plug-in ports, network ports, and TV receiving ports, but also can put plug-in boards and TV adapters in the empty part in the middle, which also solves some wiring problems.

4. Do you choose to leave the bottom blank or stick to the ground for the TV cabinet?

It is best to leave a certain space for the black tv stand from the ground and the wall. The bottom space is for easy cleaning, and it is not attached to the wall to leave a certain space for heat dissipation of the home appliances.

There are two more details to pay attention to:

One is to pay attention to the problem of skirting, and try to choose the height of the TV cabinet from the ground that can reasonably avoid the height of the skirting;

Second, the height of the TV cabinet from the ground allows the cleaning robot to enter and clean easily, which will greatly save your cleaning time. It is recommended that the bottom space be about 10cm, which can basically meet the height requirements of most sweeping robots.

5. In addition to matching the TV, the biggest function of the TV cabinet is storage

A reasonably designed TV cabinet can basically solve the storage problem of the entire living room.

Before rationally arranging the storage space, let's think about it, what are the things that we often throw around in the living room?

Remote controls for various audio-visual equipment such as TVs, projectors, game consoles, books and magazines that you can read from time to time on the sofa, as well as carefully selected ornaments or green plants to match the TV wall, and every home will have of some different bits and pieces.

I believe that everyone has the experience of rummaging for the remote control in the living room, which is simply the biggest hidden danger of living room storage. The best way to store them is to organize them all together and put them back in the same place every time they are used up. Considering the high frequency of use, it is not recommended to put them in a drawer. If there is a storage box, you can Putting it in the drawer of the TV cabinet is perfect.
6 good TV Stands recommended to you
Tribesigns 3-Tier TV Stand, Industrial Media Stand for 60" TV
【TV Unit with Style】:Constructed of tubular metal and finished in black textured finished, three fixed shelves, diverse elements merge into a unique combination which brings a rustic charm to your home.
【Hold up Tvs to 60''】:With its open frame design, tribesigns industrial look console table provide large storage space, which accommodates flats panel tvs ups to 60" wide. 3 fixed open shelves hold perfectly your DVD components and gaming consoles.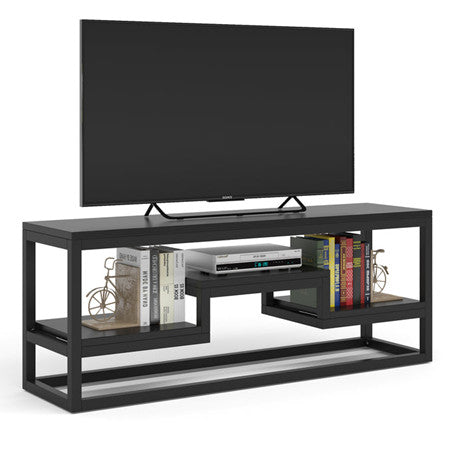 【Reliable Television Stands】:Combination with sturdy metal frame and high-strength chipboard ensures a high stable and durable of the TV cabinet. Make the max load capacity is 200 lbs, no serious shake or movement.
【Versatile Media Console Table】:Whether used as TV console in the living room, or as a coffee table in the house, serving stand in the kitchen, or entryway console table in the foyer, the table can perfect to hold everyday belongings and cut the clutter in your home.
$189.99
Tribesigns TV Stand, 47" TV Console with Storage Shelves
Dimensions: 47.2"L x 15.7" W x 29.5"H, this wide TV stand table for TV's flat screen up to 55", weight capacity: 100lbs.
Unique Design: V-Shaped metal wire with an open back, you can hang the electric wires to the metal so it would not be hanging all over. Unique design lets your TV stand special decorative furniture in your home.
Ample Storage Capacity: Open display design and bottom s tier shelves allow you to store much stuff with this table, CD's, media device, etc, not only a simple TV media console table but also a storage center.
Industrial vintage style: Rustic wood finish with simple lines creates a vintage industrial style, it matches most furniture of your decoration, the classic color will not let you feel aesthetic weariness.
Easy Assembly & Warranty: All pieces are labeled and wrapped well, tools and instructions included, you can finish it in under 30 minutes. Tribesigns provide you with 18 months of free replacement and professional customer service! Be confident with us!
Current price$79.99
Tribesigns TV Stand for 60 Inches TV, 3-Tier TV Console Table
TV, Collections, and Games: With storage shelves and 2 drawers underneath your TV, you can also organize your DVD collections and game consoles on this TV table! Table top for displaying your family portrait, decorations, plant, ect. 2-tier open shelves and a cabinet with a door provides ample space for storing a soundbar, DVDs, Xbox,PS4 pro, books, remote control, AV components or other media.
Eye-Pleasing Look&Retro Appearance: The geometrical line meets with the retro wood grain tabletop, making it ideal for the contemporary household. This retro-inspired design not only to not make your furniture a thing of the past, but to decorate your taste of life. Complement your living space with a clever balance of fashion and function with this remarkable TV stand!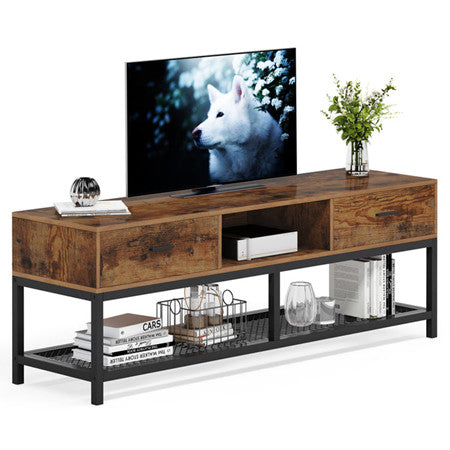 Easy Assembly: Your favorite series is about to start but is your TV still on the floor? Don't panic, this TV cabinet can be assembled quickly thanks to numbered individual parts; now you won't miss a second of your show
No Wobbles: The combination of a sturdy steel frame and high-strength particleboard ensures a high stability of the TV cabinet. Who likes wobbly furniture? Not us! That's why each metal leg on this stable TV stand has an adjustable foot underneath, keeping everything stable and in place
$229.99
Tribesigns 75 inch TV Stand for TVs Up to 85 inch
Multiple-use Television Stands: Wondering how large TVs this entertainment stand can hold up? Up to 85 inches! You can watch the movies in full view relaxing eyes and mind after tiring work! Not only as a media console in the bedroom but also as a TV console table in the living room for displaying decor.
Store, Hide, Show: Open two doors to reveal shelved cabinet storage for housing your cable box and entertainment game console. Cable management cutout in the back helps keep your ensemble clutter-free. Featuring open shelves on both sides act as stylish stages for books, decorative accents, or speakers.
Born with Strength: The steel frame and durable MDF provide a sturdy structure, our entertainment center will serve you a long time! Worry about wobbles? with adjustable feet for keeping everything stable and in place!
Assemble without Any Obstacles! Numbered parts and detailed, easy-to-understand instructions accompany you, set up this TV cabinet easily within 30 minutes. So equip your living room with this tasteful TV table and start binge-watching your favorite show!
$57.49
Wood Black and Gray Adjustable TV Stand Console with Storage, 79" to 118"
Adjustable Length: It can be extended up to 118"/3000mm, perfect for extra-wide TV screens.
Multiple Storage: 3 drawers and an extendable space offer ample room for storing.
Premium Materials: Made of manufactured wood with veneer, it's durable and dust proof.
$469.99
Tribesigns Console Sofa Table with Open Shelf, Industrial TV Stand
【Versatile Accent】:A key ingredient to any family home is an expertly made console table like this one. Adds character and dimension to pieces that will make your living space something special.
【Industrial & Modern Charm】: We love how its retro brown manufactured wood are held in place by a metal base, which gives this piece an industrial flair, for an eye-catching display vignette.
【Multifunctional】: Three shelves are great for displaying rows of books or clusters of framed photos. It works great as a console table, entry way table, hall table, display table, sofa table, TV stand, etc.
【High Quality Material】: Built from durable engineered E1 wood with a sturdy metal frame, our sofa table is built to last and is sturdy enough to hold all of your items.
【Buy with Confidence】: Comes in detailed and illustrated instructions and numbered parts. If you get any problem with our products, please rest assured feel free to let us know.
$139.99
Things needing attention when buying TV Stand 
1. The selection must take into account the width, height and depth of the electrical appliances to be placed (such as TV sets, DVD players, etc.), so as to avoid troubles due to different sizes later.

2. When choosing a TV cabinet, you must consider the space reserved for placing items such as CDs, DVDs, tapes, etc., to avoid inconvenience in future use. For example, the design of TV cabinets for Hongjiu wood furniture is more user-friendly, consider To everyone's needs, the space design is very reasonable.

3. Pay attention to the selection of the material of the TV cabinet, and fully consider the heat dissipation problem of the TV cabinet.

4. When purchasing, check whether the TV cabinet is convenient and feasible in terms of line placement.

5. In order to take into account that the functions of electrical appliances such as TVs can fully play a role, when deciding the design or shape of the TV cabinet, let the functions of the electrical appliances be fully utilized as the first choice.

6. When people are watching TV, the height of their sight should be below the eye level when they sit down. Therefore, when choosing a TV cabinet, the height of the TV should be designed to be 30-40 cm.

7. Today's TV supplies are not only not small in size, but also not light in weight. Therefore, when choosing a TV cabinet, it is necessary to fully consider its weight capacity.

8. The choice of the TV cabinet must be in harmony with the overall style of the living room. It should not be "maverick" and appear abrupt. You should choose a style that can be integrated into the overall space. If you can create visual highlights on this basis, then better.
People also ask these questions
Should TV overhang the stand?
A rule of thumb for us here is to have about 3 inches from the edge of your TV to the edge of the TV stand. This helps keep your TV nice and centered while giving the appearance of evenness. However this is situational and more overhang on each side isn't necessarily a bad thing either.
Do TVs look better on the wall?
On the surface, mounting a television to your wall seems like a good idea. It saves floor space and lifts the screen up to where the whole room can easily see it. However, if you start the process without a plan, it can quickly turn into a disaster.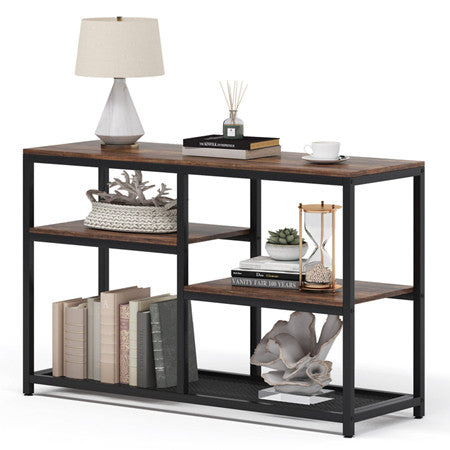 What size stand do I need for a 50 inch TV?
An ideal tall tv stand for a 50 inch TV has a width between 40 to 55 inches—a standing height of about 49 inches and a depth anywhere from 15 to 20 inches.
Which wall is best for TV?
Ideally, the TV should be installed in the southeast corner of the living room. The north east or the south west directions are best avoided when it comes to placing your TV in the social space in the house so that the positive energies in the room are not blocked.
Why are TV stands so low?
Why are modern tv stands so low? TV stands are kept low because the aim is to maximize the viewing angle while sitting. Most people are going to have a chair or couch in front of the TV. This is why a low TV stand is great as it keeps the screen at eye level while sitting.
How deep is a wooden tv stand?
The depth of your TV stand could be anywhere between 15 to 18 inches, and it would have sufficient space for consoles and some other decors.
How high should a 55 inch TV be mounted?
For the best viewing experience, the middle of your TV should be at eye-level, which is usually around 42 inches high. This means a 55-inch TV should typically be mounted about 28.5 inches from the floor to the bottom of the TV.
What is the proper distance for TV viewing?
While it all boils down to personal preference, there is a simple formula that works as a size calculator that provides a good starting point: Viewing distance (in inches)/2 = recommended TV size. For example, if you usually sit 10 feet from the TV, that's 120 inches (10 feet x 12 inches).
This article tells you more information about  TV Stand with Drawer from four aspects and I believe it really can help you, just read it carefully.