How to Choose a Right Writing Table for Your Home 2022
The ideal of many people is to have a study at home, where they can read books and create a good learning atmosphere to the home.
Now, let's talk about the important role of the study-writing table design! This article will tell your more information about antique writing table from the following 4 aspects, just read it carefully.
The choice of writing table position
The design of the writing table in style
5 Tribesigs writing tables are your better choice
People also ask these questions
The choice of writing table position
The design of the writing table for students is closely related to its location. Choose the location first, and then design the style.
1. Independent study room
△ Centered
If the student writing table is placed in an independent study, the best position is to place it in the center if space allows, which is spacious and comfortable.
△ Put it against the wall
For some small study rooms, the small writing table is not suitable to be placed in the center, so you can choose to place it against the wall.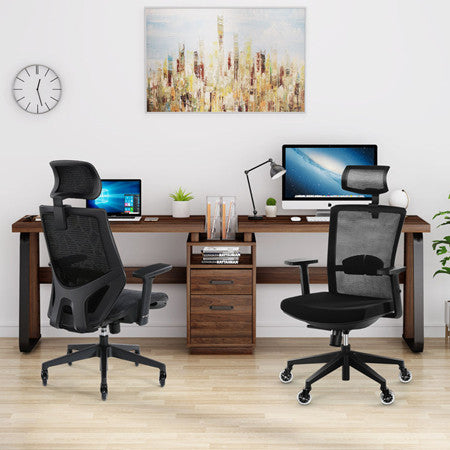 Note: The writing table with drawers are placed against the wall, and the lighting must be well designed. One main light is not enough. It is recommended to design professional reading lights.
△Facing the indoor window
We may be a little depressed if the writing desk is directly facing the wall., Therefore, we can also choose to design interior windows on the wall, which can relieve the depression and improve the lighting of the study.
In the design of indoor windows, you can choose to open holes in the load-bearing wall, or re-build the wall to plan the window holes.
△ Bay window
When there is a bay window in the independent space, it is also very common to place the study writing table in front of the window.
Notice:
①The light outside the window is unstable. Reading books in natural light for a long time will damage your eyesight. It is recommended to install a desk lamp.
②It is recommended to install screen curtains or blinds on the windows to avoid reading books in direct sunlight.
2. Living room
Of course, for many just-needed rooms, there is no no extra space to accommodate a study, so we can also find a new location for the writing table, such as the living room.
△Beside the sofa
If the width of the living room is relatively long, then we can place the desk next to the sofa to design a simple reading area.
For some horizontal or long and large living rooms, we can also choose to place the writing desk behind the sofa, that is, as a partition or as a writing table.
△TV background wall
Nowadays, many people like to use projectors instead of TV functions, so the TV setting wall can also be used to design writing desks!
△Place by the window
If there is no balcony in the living room, you can choose to place it by the window.
3. Balcony
Nowadays, many people use dryers to replace the traditional drying function, so the space on the balcony can be vacated for other purposes. At this time, it is also suitable to place a writing table!
Choose the wall on one side of the balcony and put the writing desk, while the other side can be used for other purposes.
4. Bedroom
As one of the quietest spaces in the home, the bedroom is also a great place to place a writing table.
△ Opposite the bed
The opposite of the bed in the bedroom is difficult to be used in many cases without a TV. It is very suitable to choose to place a desk.
Note that the recommended channel distance is between 80-120cm. Too narrow is not appropriate.
△The head of a bed
Compared with the end of the bed, the design of the head of the bed is relatively less difficult. After being designed as a wiring desk, it can also be used as a bedside table.
5. Cloakroom
As an independent and quiet space, the cloakroom can be can be used to place a writing table or combined with a dressing table, killing two birds with one stone.
The design of the

 

writing table in style
After choosing the location of the antique writing table, we talk about the choice of the table in style.
1.Buy the finished product
It is relatively simple to choose to buy finished products, as long as you choose the corresponding size according to the space.
Advantages: simple and efficient, less time-consuming, and more styles to choose from.
Disadvantages: poor fit space, many good-looking tables may not fit the area of your own home.
2.Suspended
Design method:
①Design the table style and then carpenters make table on site.
②The slot is embedded in the wall and fixed with square steel.
③Choose oil-based paint for writing table paint that will be better color rendering.
3.All-in-one desk
In order to increase the practicality of the corner writing table, the folding writing table can also be combined with other functions to save more space.
△ Combined with cabinet
△ Combined with tatami bed
4.One-legged
Create a round table leg that suits the space and match the overall style of the space.
5.Partition type
For the many horizontal study, the writing table for adults often acts as a partition, so its design is not only a table, but also a partition.
suggestion:
①It can be combined with the brick wall, and the writing table is designed as a hanging type, which ensures the privacy of the study to a certain extent.
②Combined with wooden partitions, there will be a unified overall style and a stronger sense of design.
6.Two-person writing table
For the needs of many people in the family who need a study room, we can choose a double desk.
7.Bar desk
If you want to make the home have more possibilities, we can also choose to use the bar as the a writing table to read.
In addition to reading, the bar can also be used as a leisure area, which is suitable for families with little reading.
5 Tribesigs writing tables are your better choice
Tribesigns Lift Top Computer Desk Industrial Writing Desk Study Desk
HOGA-M0086
Stable Sturdy Durable Height Adjustable Computer Desk, Ship From UK Warehouse: Our this industrial lift top computer desk is constructed by high quality E1 grade premium safe particle board. Metal frame which features high durability.
Lift Top Computer Desk with High Quality Hydraulic Lifter, Safe and convenient: Stable sturdy durable lift top computer desk with high quality hydraulic lifter. When giving the desktop board a push, it falls slowly to become ordinary computer desk. Safe and convenient. This sit-stand computer desk can lift from 79cm H to 102.5cm H.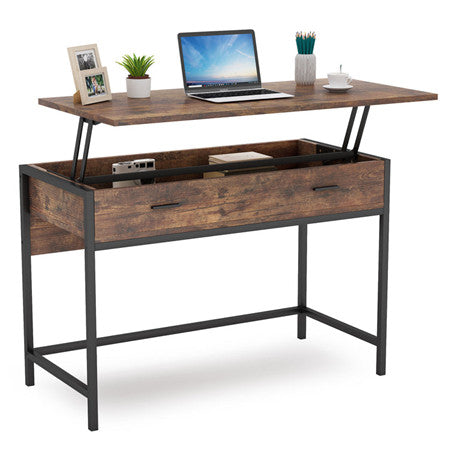 Height Adjustable Computer Desk with Spacious Desktop and One Large Capacity Drawer: Computer desk laptop table with spacious desktop and one large capacity drawer. Provides a plenty of space for your home office supplies. You can put your books or files in the drawer. Very practical computer desk writing desk.
Tribesigns Computer Desk with 2 Drawers and Hutch, Big Home Office Writing Desk
HOGA-C0387 
Desk&Bookshelf Two-In-One: Its vertical design features a open bookshelf and attached a hutch saves floor space while enhancing storage options. And even with all your stuffs it still feels spacious!
2 Spacious Storage Drawers: 2 easy glide drawers feature plenty of storage to make up for the compact design. The convenient drawers provide ample space to store office supplies, Papers, files folders, and plenty more
Multi-Use Computer Desk: This is not a desk, it also a bookshelf and workstation two-in-one. Whether gaming, studying or surfing the net, this contemporary 2 drawer style that adds a touch of sleek sophistication to any home office, dorm room or bedroom.
Spacious Desk: Overall size: 47"L X 23.62"W X 55"H ; offers spacious desktop for your dual monitors stil have much space for paper working. or serving as a cratf desk for you artware.
Tribesigns 47" Computer Desk with 2 Drawers, Modern Simple Laptop Desk Writing Desk
HO-XJ0025
Clean, minimalist and high-function design make this desk the perfect addition to any home office, dorm room, work space or boot strapped start-up.
Spacious Desktop: widen desktop (L47.2"x D21.65"), provide spacious space to keep a computer, laptop and scatter things around, very practical
Two Large Drawers: provide plenty of storage space to book, pens ,jewelry, cosmetics and office supplies organized and even big enough to keep your MacBook (11-15")perfectly when not in using.
Multifunction: can be used as computer desk, office workstation, writing desk, study table, gaming desk, makeup desk etc. personalize your home office with this functional desk.
Tribesigns Two Person Desk with Bookshelf, 78.7 Computer Office Double Desk
HOGA-C0162
Great Double Workstation Desk For Two Person: Office, school or home, a 2 person desk can make a difference to your space and resource allocation. You don't even have to sacrifice style. This double desk will be the best choice for you, the 78 Inch - Length size allows 2 person to work side by side without compromising on space , the simple modern style and spacious side-by-side workspace that makes it's space-saving and much more effective.
Powerful Storage Function: A large desktop surface with a storage shelf and lower bookshelf will provide ample storage space to hold books, your laptop or desktop PC and all of your office accessories confidently, keeps your things organized and easily accessible. It also could work as computer desk,computer table,writing desk,office desk, training table, dining table, meeting table, exhibition table etc just like you want.
Tribesigns L Shaped Computer Desk, 67 inch Industrial Reversible Corner Desk Writing Table
HOGA-F1322
Reversible L Shaped Desk & Large Legroom: The l desk with 2 pieces same length board, you can install one side of the desktop to the left or right as needed. 29.5'' desk height and plenty of legroom allow you to rest your legs and do some stretches after working a long time.
Versatile Industrial and Simplicity Design: With a simple design and rustic finish, this corner desk brings your office or home a pop of mix contemporary and vintage appeal. A perfect addition to your studio, study room, office, or bedroom, to serve as an office workstation, study table, meeting desk, writing desk, computer desk, gaming desk, etc
Large Workspace: Measuring 67"(L) x 47"(W)x 30.5"(H), L-shaped desk provides a huge operating area to place double monitors, printers, laptops, other office supplies or home décor. You will feel freedom while writing, working and other home office activities even in small spaces.
People also ask these questions
How much should a simple writing table cost?
If you are looking to buy a new writing desk for bed, the prices range from $200 to $1,200 depending on the materials, features, and style you choose.
Who invented the antique writing table?
John Loughlin in Ohio invented the first school desk which became very popular. They attached to one another and were usually big enough to sit two or three children. Notice the ubiquitous inkwell. Apparently, the name was a result of a media campaign surrounding his invention.
What is the difference between writing desk and computer desk?
Writing desks are smaller, they often have a simple worktop but may include one or two drawers. We recommend Cherry wood from writing desks. Computer desks are larger, bulkier and will take up more room but are more suitable for those with small businesses running from their home office.
How do I choose a writing desk with shelf?
Size – wooden writing tables tend to be on the smaller side (800mm wide rather than 1200mm)
Storage – writing desks usually come with some integrated storage (usually a drawer), for your writing supplies and stationery.
How tall are wooden writing table?
In fact, the industry standard for desks is 29 inches tall, or 73.5 cm (approximately). It is curious that this has become the standard, as this would be an ideal height for people 6 feet tall, which according to the National Center for Health Statistics, is far from the average American person's height.
What happens if your desk is too high?
In short, if your desk is too high, you may experience shoulder, elbow, wrist, or hand discomfort. On the contrary, if your desk is too low, you may lean forward when you work or extend your arms forward to use the keyboard/mouse (especially if the armrests of the chair interfere with the desk).
Should your desk be lower than your chair?
There should be space to get your legs and any arm rests attached to the chair under the desk. If you can't do this due to the arm rests, remove them. If you cannot remove the arm rests then, ideally, the desk should be adjusted. Height adjustable desks offer several advantages over fixed desks.
What is the standard size of an office desk?
The standard writing table with drawers have 50 inches in width, a height of 28-30 inches, and a desk depth of 25 inches. The depth of the desk should be generous enough to fit a computer monitor, a keyboard, and a mouse.
This article tells you more information about How to Choose a Right Writing Table for Your Home and I hope this article can help you.