The Best Computer Desks for Small Spaces in 2022
Computer desks are an indispensable piece of furniture at home today. While satisfying daily leisure and entertainment, they can also accommodate large and small sundries so that home life is no longer cluttered. How much space you have in your home office will inform what kind of desk set-up you'll need. This article will focus on cheap computer desk for small spaces. 
Offline or online, which one is better choice to buy a corner computer desk?
We don't think there is a big difference between online purchase and offline purchase. There are many kinds of computer desk with drawers on the Internet, with various styles and functions, and consumers can choose the desk they want.
You can only see the computer desks through pictures on the internet, and not know more detailed of the desks for the online shopping, while there are real items on the offline stores, which can be easier to choose the desks you want by comparing the real products. What we can't ignore is that offline buying is time-consuming, and the corner desk types may not be as rich as online.
What are the materials of the black computer desk?
Wood-based Panels:
This is a common material with good environmental protection, high hardness and not easy to bend, short production cycle and low cost.
Four kinds of wood-based panels: Plywood, Blockboard, Particleboard and MDF
Solid Wood:
Solid wood is natural wood with a natural texture. Solid wood products are environmentally friendly, but the production cycle is long and the cost is high.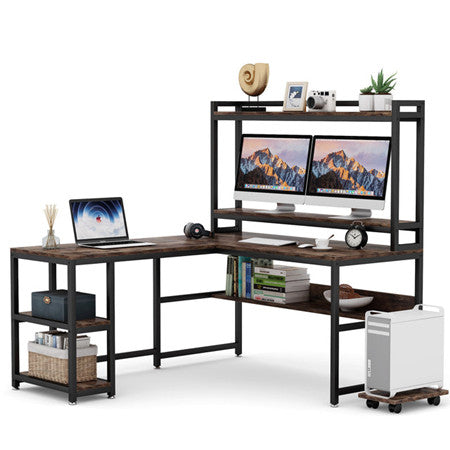 Steel Cold Rolled Sheet:
Cold-rolled steel sheet refers to the steel sheet produced by cold-rolling process with hot-rolled coil as raw material. It is a high-density micro-particle board with high resistance to bending, no deformation, stable without shaking.
Melamine Board:
This board is a combination of particleboard and MDF.
This material has the advantages of sturdiness, environmental protection and long service life. It is an excellent main material in office furniture materials.
PVC Board:
This board is environmentally friendly, water resistant and comfortable.
Sintered Stone:
It has the features with high temperature resistance, corrosion resistance, water resistance, and style.
Marble:
Marble is wear-resistant, but the price is expensive and is not resistant to water and oil stains
Several computer desks are suitable for small spaces
Not enough room space? How to use the space reasonably? The following recommended corner computer desk can meet your needs for the small spaces, with the advantages of less area occupation, simple and convenient installation, practicality and appearance.
      HO-XJ0025
Clean, minimalist and high-function design make this desk the perfect addition to any home office, dorm room, work space or boot strapped start-up.

Spacious Desktop: widen desktop (L47.2"x D21.65"), provide spacious space to keep a computer, laptop and scatter things around, very practical

Two Large Drawers: provide plenty of storage space to book, pens ,jewelry, cosmetics and office supplies organized and even big enough to keep your MacBook (11-15")perfectly when not in using.

Multifunction: can be used as computer desk, office workstation, writing desk, study table, gaming desk, makeup desk etc. personalize your home office with this functional desk.
     HOGA-C0037
The Tribesigns Desk and hutch brings together all of the features you need for a functional, dependable desk for your home.

DESK & BOOKSHELF TWO-IN-ONE: Its vertical design features a open bookshelf and attached a hutch saves floor space while enhancing storage options. And even with all your stuffs it still feels spacious!

COMPACT BUT HUGE ENOUGH FOR 2 MONITORS: This extra large desk surface (47.2in*23.6in) with high capacity makes it perfect fit for your laptop or desktop PC and all of your office accessories.

SUPER STURDY AND DURABLE: The desk legs made from heavy-duty metal ( 1.18" by 1.18" width) which offers super stability and durability, 0.6" thicker desktop is strong enough support heavy duty load. The Panel material is The Panel material is environmental E1 standard particle wood which is wear-resistant, heat-resistant and easy to clean.
      HOGA-F1146
SPACIOUS WORK AREA:Measuring 47-inch L x 23.6-inch W, this writing desk give you plenty of space for laptop, keyboard, books, files, desk accessories. This computer desk is suitable for study room, bedroom, living room and office.

2 LARGE STORAGE DRAWERS:Measuring 21.2-inch L x 11-inch W, the 2 large drawers perfectly combined with the computer desk meanwhile provides plenty of storage for your study and office items, books, magazines, and laptops.

MONITOR RISER & WORK IN JOY: The desk comes equipped with two elevated monitor stands to fit dual monitors meanwhile keep your one or more monitors at eye-level for comfortable viewing in right posture, to keep you focused and comfortable throughout the day.

SUPER STURDY & STABLE:Crafted from 1.6-inch heavy duty metal frames and high quality particle board ensure the stability and weight capacity. The adjustable leg pads for different height need, uneven ground conditions(keep balance) and protect the floor from scratch.
     HOGA-C0387
IT IS NOT ONLY A COMPUTER DESK IS A BOOKCASE AND A STORAGE RACK

Desk&Bookshelf Two-In-One: Its vertical design features a open bookshelf and attached a hutch saves floor space while enhancing storage options. And even with all your stuffs it still feels spacious!

2 Spacious Storage Drawers: 2 easy glide drawers feature plenty of storage to make up for the compact design. The convenient drawers provide ample space to store office supplies, Papers, files folders, and plenty more

Multi-Use Computer Desk: This is not a desk, it also a bookshelf and workstation two-in-one. Whether gaming, studying or surfing the net, this contemporary 2 drawer style that adds a touch of sleek sophistication to any home office, dorm room or bedroom.

Spacious Desk: Overall size: 47"L X 23.62"W X 55"H ; offers spacious desktop for your dual monitors still have much space for paper working. or serving as a craft desk for your artware.
People also ask these questions
How do I choose a cheap computer desk?
Cheap desk should either be equipped with a keyboard platform, or legs that can be adjusted. Be sure that any keyboard platform is large enough to hold a mouse. Desktop equipment and materials should be within easy and comfortable reach, and should have sufficient space so as not to overload the desktop.
What is a good desk size?
The best size for a desk is 60×30 in most instances. Most desks are built to be generally this size because this size gives you plenty of desktop space to work where you can reach everything you need to reach.
Are standing desks better?
Standing desks seem to help ease back pain, but doctors don't know how much time you need to stand to get this benefit. More productive: In a study of call center employees, those with standing desks were 45% more productive on a daily basis than employees who sat during their shift.
How deep should my white computer desk be?
The work surface should be between 20 and 30 inches deep and at least 24 inches wide. For maximum flexibility, the height should be that of a conventional writing desk, about 28 to 30 inches, with the keyboard resting on an adjustable shelf.
What is the standard size of computer table?
A standard computer desk size is 50×25 inches. The depth of the small computer desk needs to be large enough to fit a keyboard and monitor.
This article tells you more information about corner desk from many aspects, I hope it can help you.