15 best standing desks of 2022 for your bedroom
Nowadays, there are desk cabinets in every family, but there are more books for students. Many parents buy more combined desk bookcases. One is that they can put computers and students can study, and the books will not be messy. This article I will introduce the desk in detail from the following four aspects, I believe it will help you a lot.
15 best standing desks of 2022 for your bedroom
How to choose a desk?
What are the taboos on desk placement?
People also ask these questions
15 best standing desks of 2022 for your bedroom
3 Level Adjustable Height
The adjustable height range is from 31 inches to 39 inches. The middle height is 35 inches. You can adjust this fully standing desk according to your needs. You can sit or stand when you work or study.
Big Desktop and 2 Tiers Shelves
The size of the desktop is 43 *23 inches. It is big enough to bear your computer, documents, coffee, and so on. The shelves provide you with more storage space.
Simple and Stable Design
The sit-stand desk has a simple design but has well support to ensure stability. The middle shelf has solid metal to support, this not only makes the shelves have a better bearing capacity but also supports the legs no wobbling.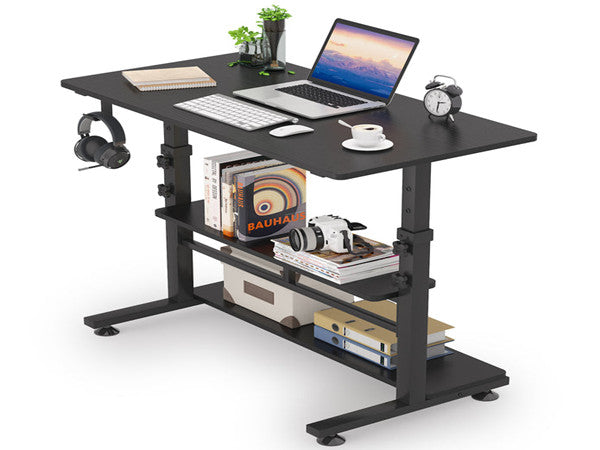 Suit Different Occasion
This manual standing desk suits both home and office. You can put it in your living room, bedroom or study room. It also can be put at the office to be a statement table. People can stand behind it and make a speech.
Easy to Assemble
The standing adjustable table is easy to assemble. We provide detailed instructions. Whatever you meet when you assemble the desk, we will be here to solve your problem.
$139.99
LIFT TOP, SIT TO STAND
Designed with the active worker in mind, the right desktop of this computer desk can be lifted up and forward to create work options of sitting or standing, providing improved health benefits (such as relieve muscle tension, reduce stress and increased blood flow) and increased productivity
AMPLE STORAGE SPACE
The spacious L-shaped desktops provides you with a abundance of workspace for your multiple monitors, laptop and other office supplies; while 2 storage shelves under the left side keep your files and books well organized and easy to access. Come with a free CPU stand to place your computer host
SUPER STURDY WORKSTATION
Made from 0.98" metal frame and 0.59" E1-graded MDF board, and reinforced by back panels and metal bars, this l shaped computer desk is extra strong and reliable for years of use; 8 Adjustable feet help to keep the L desk stable on uneven ground, and protect your floor from scratches
EASY TO ASSEMBLE & 100% SATISFACTION
All parts and hardware plus detailed instruction are included for easy assembly. Receive defective or damaged product or missing parts? No heartburn! We will arrange you replacement without extra fees and hassle return.
$289.99
Reversible L-Shaped, Elevated Monitor Riser
You can choose to install the large desktop with monitor raiser on left or right side as per your needs. The monitor stand allows you to raise your screen to eye level, promoting a good posture, helps to reduce back & neck pain
Super Sturdy & Stable Construction, Large Weight Capacity
The corner desk made of 0.6 inch high grade particle board durable material, while the sturdy metal frame with adjustable leg pads make sure the computer desk stays stable on uneven floor or rug. Reliable material ensures the l desk will hold up well for years
Easy Assembly, Buy with Confidence
Every piece is labeled, hardware, tools and clear instructions are included in the package for easy assembly (We provide 18 months quality assurance and friendly customer service for our products)
$249.99
MULTI-FUNCTIONS FOR GAMER
Coming with a convenient smart phone stand, monitor shelf, cup holder, headphone/VR headset hook, under-desk basket and game storage shelf. This gaming computer desk is specifically designed for your better gaming experience and keep all gaming gear in one place where it is easy to use .
MONITOR RISER & OPEN STORAGE SHELF
These allow for more desk space for working and entertainment. Built-in monitor stand keeps your monitors at eye-level for perfect viewing and reducing neck fatigue in the game. Bottom bookshelf help organize all gaming swags neatly and keep your essentials close at hand.
K-LEG DESIGN & AJUSTABLE FOOT
Enhanced with 0.98"x0.98"metal frame and waterproof MDF laminated board ensures maximum solidity and stability, can support up to 330 lbs. Anti-slip leg pads help eliminate wobble, but also make adjustment of height to meet your various demands.
EASY ASSEMBLY & CUSTOMER SERVICE
Chair is not included. Free replacement or parts guarantee for any quality problem within 30 days, pls contact with us. Tools and instructions that needed are included in the package, just follow the instructions in the package, you will assemble it in a while.
$199.99
High Quality & Stability & Sturdy
Tribesigns corner desk is made of high-quality environmentally friendly particleboard and metal frame, table legs and additional iron bars form a stable triangular structure which ensures desk stability and durability.
Ample Storage Shelves
Industrial style, the shelves on the left and right as a bookcase or display shelf, providing extra storage space to keep your writing desk clean and tidy, maximizing your space, offering a perfect workstation for your work.
Corner Desk with Monitor Stand
The monitor stand design can help you to place the monitor and increase the storage space. Rising your screen up to a suitable viewing height, relieving the burdens on your neck and shoulder, and the shelf on the right hand make everything is within reach.
Wide Application & Easy Assemble
Tribesigns best sit stand desk can be used as computer desk, study writing table, office workstation desk for bedrooms, studio desk, crafting desk and other desks of home office. With the easy following manual instructions and all necessary parts, you can easily install it.
$239.99
Tribesigns Computer Desk, 47 inch Office Desk with Hutch and Bookshelf
【Spacious desktop】
The autonomous smart desk surface measures 47.24"*22.6". The large desktop perfect for your laptop or PC monitor, keyboard files, and desk accessories, can totally maximize daily working and reading enjoyment.
【High-quality & Durable】
Constructed by durable particle board with waterproof coating, which is strong corrosion-resistance, anti-scratch and easy to clean. The desk legs made from heavy-duty metal ( 1.18" by 1.18" width) ensures the desk won't wobble with every movement you make. This corner sit stand desk is strong and long-lasting, which is an ideal addition of furniture for home and office.
【Modern & Simple Style】
Office/home Minimalist meets sophistication with the desk. With its simple design and contemporary style, this attractive desk adds charm and beauty no matter where it stands! It can perfectly match all the furniture styles in your office or home.
【Easy assembly & After-Sales Service】
We have clear installation instructions, and each part and plate has its own number, which makes it easy to assemble. We offer friendly customer service. If your parcels came with any problem or you have any question about installing, please feel free to contact with us.
$219.99
Tribesigns L-Shaped Corner Computer Desk with Storage Shelves
【SPACIOUS WORK SURFACE】
67"(L) x 59"(W)x 24"(D), offers wider space to fit your laptop, PC, keyboard , desk accessories. It also provides a plenty of space for drafting, gaming setup and other office activities.
【FLEXIBLE DETACHABLE DESK】
Made of large desktop in 3 pieces, this drafting table can be separated into two tables, which help expand the space effectively even for a small room.
【OPEN BOOKSHELVES & CPU STAND】
This modern computer desk features two storage shelves to hold textbooks and keep your essentials close at hand, also leaves plenty of surface space for working area. The free host stand is also contained.
【TILTABLE DRAWING BOARD】
Adjustable tabletop easily tilts to 80 degrees, offering a comfortable working space. The sheet stopper on board effective prevent sheets slipping.
【SUPER DURABLE & STABLE】
Heavy duty steel frame and floor levelers ensure the maximum stability. 0.59" thick MDF board is water & dust resistant and easy to clean. Round angle can avoid accidentally scratched. Please contact us for any installation problem. We provide 18 months' warranty and friendly customer service.
$329.99
Tribesigns 94.5 inches Two Person Computer Desk with Hutch
[Storage Hutch Attached]
The two person computer desk features an open shelf for storing books or documents or for displaying decorative items. Make everything you need accessible.
[Spacious Work Space]
The double workstation provide interference -free working for for 2 person. 94.5" L*23.6 W,spacious desktop for a multiple monitor setup or a gaming PC
[Extra Storage Space]
Convenient 2-tier open shelves storage on each side. Designed as a host stand. A 30-inch high computer desk provides spacious room underneath without any obstructions giving you vast leg room
[High Quality & Durable Table]
6/10's of an inch thick E1 class particle board made desktop and shelves provide you with sturdy desk. Metal tubular frame features a powder-coated finish that prevents corrosion.
[Easily Assemble]
Assembly is a breeze with included tools and instructions. Anti-slip foot pads help eliminate wiggle or wobble whilst offering scratch protection to your floor when properly installed. We offer friendly customer service.Please notice the product will be shipped out with two Two separate parcels.That maybe not arrieved at the same time.
$279.99
Tribesigns 47 Inches Large Desktop Writing Desk with 2 Drawers
STORAGE VARIETY
A large table top, a monitor stand ,2 drawers,this computer desk consists of many different elements, but they all have one thing in common: they offer plenty of storage space for your office supplies,and the adjustable foot pad compensate for uneven flooring.
MONITOR STAND DESIGN
It's equipped with a monitor stand. You can place different computers according to the height of your line of sight, which is suitable for most people's home office.
STURDY STRCTURE TABLETOP WITH FRAME
Steel metal frame coated with anti-rust and corrosion finish / Eco-Friendly P2 Grade MDF Board desktop with heavy load capacity / Solid and anti-deformation materials for upmost durability and stability.
LARGE DESK, SMALL EFFORT
The numbered parts and easy-to-follow instructions allow you to assemble this desk in the time it takes your computer to update.
WHY CHOOSE US
Enjoy modern style by your own office with this desk,the computer desk has elegant white and luxurious black color for your choice.The desktop is waterproof and anti scratch, very easy to clean.We offer a competent and friendly customer service before and after your purchase.Please contact us if you have any product problems when receiving the home desk and we will always be there to help you.
$219.99
Tribesigns L Shaped Desk with Hutch, Storage Shelves and Tiltable Tabletop
【Larger Desktop & Storage Hutch】
65.3"(L) x 55"(W) surface is spacious enough to have 2 monitors and laptop, a small printer machine, documents and still have empty space on the L desk. Open hutch is ideal for storing books, office necessities or displaying decorative items. The back panel design prevents items from falling down.
【Tiltable Drawing Board】
This drafting desk features a tiltable desktop, which can be adjusted from 0 to 80 °, offering a comfortable position for drawing, painting, reading while still leaving the other side flat for books, office supplies. This will effectively prevent neck pain and protect your vision safety. The sheet stopper on board can prevent sheets slipping.
【Double Bookshelves & Host Stand】
This corner desk Features two open shelves work as a bookshelf ready to keep your files, books, office supplies within arm's reach. Meanwhile still leaves a plenty of room to relax your legs after a long day of working. Comes with a free CPU stand to protect the tower from scratching and moisture. .
【Sturdy & Durable L Table】
The L-shaped office desk constructed by powder coated metal frame & high-quality MDF board, which ensures stability and durability. The desktop is anti-scratching and easy to clean. Anti-slip foot pads help eliminate wiggle or wobble whilst offering scratch protection to your floor. Comes with a clear a detailed instructions to let you assembly easily.
$359.99
Tribesigns L-Shaped Computer Desk with Storage Drawers Cabinet Set
[Storage Cabinet with 2 Drawers]
There is a 47.2"x23.6"x26" File cabinet beside the desk to provide large storage capacity. It comes with two drawer, two storage shelf and one CPU stand for stack of notepads, folders and other office supplies. Flexible storage option meet all your need!
[Simple Humanized Design]
Simple frame structure and shorter front baffle of the computer desk provides wide space for your legs to stretch freely without any obstacles. Four wheels of the cabinet can make you move more easily, plus the locking ones can keep it fixed in a certain position.
[Super Durable & Sturdy]
Made of 1.18 inch thick E1 particle board with perfect edge technology plus thick heavy-duty metal frame, which can ensures strength and durability. Smooth stainless steel and engineered wood is dust and water resistant and can be easily cleaned with a damp cloth.
[Easily Assemble & Quick Response]
Elaborate design and clear instruction through all steps allow you to effortlessly assemble this workstation table.(Please assemble after receiving TWO PACKAGES) If you have any questions about Tribesigns products, please feel free to contact us, we will solve it for you as soon as possible.
Tribesigns 94.5 inch Two Person Desk with Storage Shelves and Tiltable Tabletop
AMAZING 2-PERSON SHARING
With 94.5"L*24"W spacious desktop, this double workstation computer desk provide a perfect solution for you and your partners to allow you work together or sharing idea without crowding or disturbance. Meanwhile the center stand expands the storage and capabilities of the workspace and makes your working more effectively.
TILTABLE DRAWING BOARD & PRINTER STAND
Adjustable tabletop easily tilts to 80 degrees, offering a comfortable visual angle. The sheet stopper on board effective prevent sheets slipping. The extended desktop is great for holding printer or fax machine, allowing you to get printed documents with arm's reach.
SPACIOUS UNDER-DESK STORAGE
Convenient 6-tier open shelves to store books, game disc and your office accessories. Tower shelf design is an good option for gamer CPU and accessories. This double desk provides spacious room underneath without any obstructions giving you vast leg room.
DURABLE & EASY ASSEMBLE
Featuring a elegant wood grain with black frame, this 2 person desk effortlessly blends with any furnishings in modern style. 0.59" thick MDF board is water & dust resistant and easy to clean. Adjustable foot ensures the computer desk more stable on uneven floor. Product will be delivered in 2 separated packages.
$339.99
Tribesigns TV Stand for TVs up to 85 Inch, Media Entertainment Center
[ Industrial Tv Stand]
The board combined from rustic and black finish to create an unique and eye-catching industrial style make TV console stand easily fit any style of rooms and furniture. Perfect for living rooms, bedrooms, entertainment center, etc
[Ample Storage Space ]
The TV stand features an open display design including 3-tier center compartment shelf and 2 side metal mesh shelves to provide easy storage and display of TV or other audio video accessories, which brings a great way to upgrade a traditional space and make it classic and retro.
[Reliable Media Stand]
Reinforced, thick environmental E1 standard board with heavy duty metal frame creates a strong solid structure, which offers super stability and durability to ensure support heavy duty load without wobbling. There are many choices of TV display stand on the market, but no one has a high quality and strong Durability likeTrbesigns. It costs more but is ensure to last. YOU GET WHAT YOU PAY FOR.
[Easy assemble]
Assembly and disassemble is a breeze and all tools, hardware and step by step instructions needed are included, no need a electric drill to assemble this desk.
$209.99
Tribesigns TV Stand, 59 Inches Gold 3-Tier TV Console for TVs Up to 60"
[Ample Storage Space with Open Shelves Design]
The open shelving is perfect for all of your video and audio components and allows proper air circulation so your equipment doesn't overheat. The 2 middle shelves can hold your cable box and gaming systems while the 2 large side shelves are ideal for speakers or decorations. The golden metal support bars give your TV a stable base and add a modern feel so you can watch your movies or the big game in style.
[Hold Up TV to 60"]
The extra wide television stand with a large size: 59.1"(L) x 15.74"(W) x 23.62"(H) (L*W*H), which designed to accommodate 50" to 70" flat screen TVs . The large size gives your 70" big screen a proper place to rest on the Tribesigns TV Stand and offers a support for visual feast.
[Versatile Hall Console Table]
Whether used as TV console stand table in the living room, or as entryway console table in the foyer, a coffee table in the house or serving stand in the kitchen, the table can perfect to hold everyday belongings and cut the clutter in your home.
[Easy assemble]
Assembly and disassemble is a breeze and all tools, hardware and step by step instructions needed are included, no need a electric drill to assemble this desk. Please contact us if you have any problem.
$159.99
How to choose a desk?
Attention to detail
For solid wood desks, the details must be paid attention to. When purchasing, you must carefully observe whether there are defects or cracks. If there is a scar on the front and a scar at the same position on the back, then the scar is a dead knot. , it will fall off after a long time, so this kind of defective desk must not be bought. In addition, it is necessary to check whether the connection between the various parts of the desk is firm, whether the drawers and doors open and close freely, and whether the screws are strong.
Accurate and appropriate
Accuracy and suitability are actually two aspects. It should be noted here that accuracy refers to the size issue. Before buying a desk, be sure to calculate the position of the reserved desk and chair, and determine the approximate size, so that you can You will not be in a hurry, and avoid buying a large or small desk.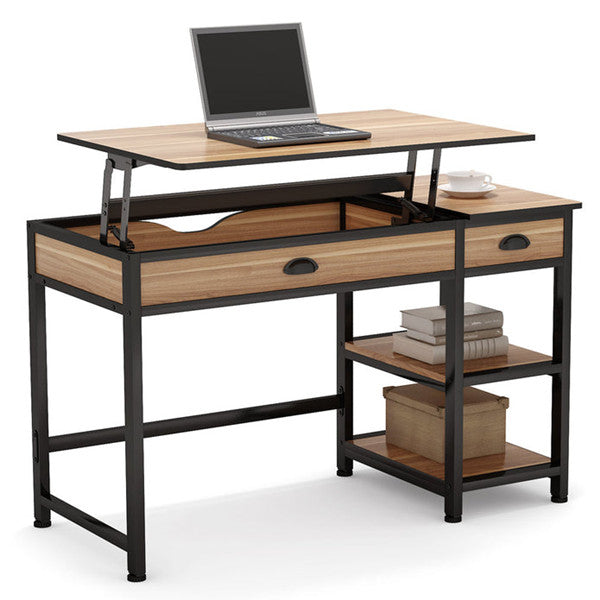 Cost-effective
The solid wood desk depends on what kind of wood it is. Don't underestimate this point. This is directly related to the price and quality of the desk. Generally, there are pine and oak wood, and the expensive ones are usually mahogany. Consider solid wood, but also the type of wood. 
Ensure safety
Most of the tribesigns standing desk are for children, so safety must be the top priority. Choose desks with smooth lines, round or curved edges, and fine surface treatment. When purchasing, you can shake the desk vigorously to see if its structure is stable. If it feels loose and swaying, then you must not choose it to avoid potential safety hazards in the later stage.
Color problem
When you were a child, you would find that the floors and walls of many buildings on campus would choose green, because green is good for our eyes, and we can also choose green for, but this is just a suggestion. When we consider the color, the main thing is to match the overall color of the house decoration. It is not good if you don't add a new piece of furniture but it looks out of place.
What are the taboos on desk placement?
1. Choose bright or dark
There must be light in the place where the small sit stand desk is placed, but it should not be too strong. The panel color of the desk should be selected in one color as much as possible. Too many colors are not good.
2. It is taboo under the beam
Not only the desk for bedroom and many furniture should not be placed under the beam, we will feel a sense of depression when we sit under the beam, and we can't study hard, and always feel that some factors are interfering.
3, facing the window is not a good thing
Facing the window also means that the view outside the window is wider, and the factors that can affect our reading have increased a lot. Those who are not determined are easily distracted.
4. Don't face the bathroom
To put it bluntly, the bathroom is a dirty place. The five turbid and damp air can directly face us who are studying, change the entire learning atmosphere and affect our mood.
People also ask these questions
Are standing desks really worth it?
While the new study suggests that a standing desk is unlikely to help with weight loss or avoiding weight gain, there may be other benefits of a standing desk.. ... And standing, rather than sitting, may reduce the risk of shoulder and back pain.
How long should you stand at a standing desk?
Research shows the ideal ratio is to spend one hour standing for every one to two hours of sitting. A height adjustable sit stand desk lets you do just that. Most quality sit stand desks have electric controls or gas lifts to make it possible for workers to adjust the height of their desk multiple times each day.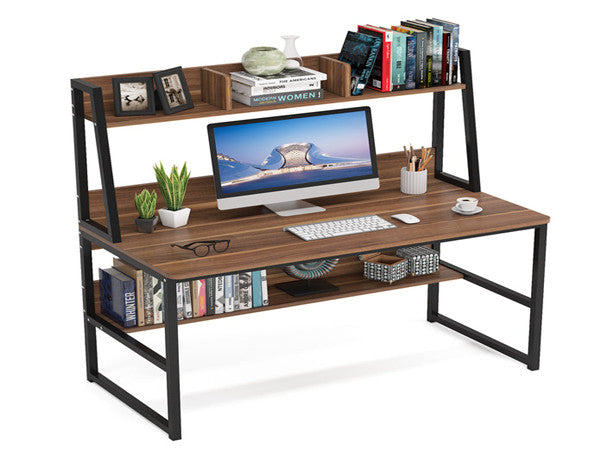 Why are standing desks so expensive?
Adjustable sit stand desk are expensive because the materials they are made of are costly and have electric motors for height adjustability which take more time and effort to build. Also, these desks are known for their ergonomic benefits for health and productivity that also affect the actual desk cost.
How tall should my standing desk be?
Generally, the best height for a standing desk should be at elbow level. This implies measuring the height from the floor to the bottom of your elbow while your elbows are at a 90-degree angle from the floor. This is the level at which the desk should be made.
How much should you stand a day?
Experts have found that you should try to stand for at least 2 hours per day, but up to 4 hours per day could be optimal. This might seem like a lot, but there are lots of ways you can fit standing into your day.
In this article, we talked about 15 best standing desks of 2022 for your bedroom. As long as you read it carefully, you can get many information.