12 things you should know when choose Coffee Table
Nowadays, people's living standards have been greatly improved. During the decoration process, we will choose modern coffee table. Tasting coffee is a kind of comfortable life enjoyment. Many consumers like to sit in a coffee shop, or buy a smart coffee table to go home. After work, they can sit at theunique coffee tables and make a cup of fragrant coffee, listen to music quietly, and enjoy life. The calm. This article will introduce you to the cheap coffee tables in detail from the following 4 aspects.
How to choose a coffee table
Recommended 4 best coffee tables
Precautions for the placement of coffee tables
Coffee table type
Coffee table style
Coffee table material
Coffee table size guide
People also ask these questions
Style
Formal, informal, modern or retro; these are all styles to consider when buying aoutdoor coffee table . If you like a modern look, choose a stylish metal table with a glass countertop. If rustic leisure is more suitable for you, then the rustic oak table will be the perfect choice. Choose a round table with wooden turning legs to get a romantic feeling. There are many styles to choose from, just follow the decoration scheme of the room as a guide.
Increasing the sense of fashion
If you want to make the living room space more fashionable, you can choose a transparent glass coffee table with a metal frame, which will make the space look more non-blocking.
Wanting retro style
If you like retro style, you can choose an antique trolley as a coffee table with storage, which can create a strong retro feeling. And when buying, you must pay attention to check the pulley to prevent scratching the floor or carpet.
Don't want to be the focus
If you don't want the large square coffee table to become the focal point of the living room, you can choose a wood coffee table with a glass table top, and the color of the wooden frame is similar to the color of other objects in the room, so that you can distract your attention.
Deciding the size
The sofa is the protagonist of this show, so the table you put in front of it should be much smaller. A good rule of thumb is that the maximum size is two-thirds of the width of the sofa. A table that is too small is better than a table that is too big, but don't be underestimated. Please note that your path to the sofa should be wide enough, and the person sitting on the sofa should be able to easily pick up things from the table.
Features
The purpose and purpose of the coffee table are the main factors that influence your choice. Consider the main motivation for the table. Is it just for storing decorations or do you also need some storage space? For storage, choose the one with drawers or shelves, otherwise, a designer or a simple coffee table will do the trick.
Gather
If you have more space around your lounge area for another coffee table sets, try to assemble multiple coffee tables. For an unusual appearance, you can choose round wood coffee table with similar designs in different sizes and place them in the center of the living room.
Measuring size
Before buying, you should carefully measure the size of the living room and the size of the surrounding furniture to ensure the size of the circle coffee table required. If you have a large living room, you need a large coffee table. In addition, one end of the center table can be placed with a bench, and the other end can be placed with two small stools to make up for the gap.
Looking at the number of sofas
If you have two sofas or more sofas in your living room, you might as well choose two smart coffee table of the same style to avoid the inconvenience of handling items. This arrangement is also convenient for people's eyes to move easily.
Budget
Cheap coffee tables can range in price from super expensive to very budget-friendly, so before you start shopping, please understand how much you have to spend on it. Your overall budget should be broken down into areas such as accessories, lighting, and furniture. The furniture items include sofas, side tables, chairs and coffee tables, the larger part of which is allocated to the larger part. The good news is that if you see something you like, as long as it doesn't affect the quality of the sofa or chair, you can slightly reduce your budget.
Shape
When you make a plan for the living room, consider the best shape of the space. Do you have children or pets? Is it a large room or small and narrow? If you have children or pets, a round or oval coffee table is ideal. The curved edge means that if you fall or hit an acute angle, you won't hurt anyone. Use a rectangular shape and leave a space of 30 inches between the TV console and the living room table. This will provide you with adequate space to walk between the two blocks. The round shape will provide more space to walk through because it will be far away from the TV console.
Material
Speaking of materials, natural wood coffee table can also have many kinds. Among the metals are industrial ones. Materials such as glass are combined with brass or steel to provide a more refined appearance. Whether it is oak, maple, cherry or walnut, wood has its own feel. Oak and maple are more casual, and walnut and cherry are more formal. Consider using Lucite, it will make your table look like floating in the room and provide a more modern appeal.
Recommended 4 best coffee tables
Tribesigns Round Coffee Table Two-Tier Coffee Table Modern Faux Marble
LARGE STORAGE SPACE
Double layer design offer you ample storage space for your stuffs like books, magazines, decorations, perfect for small department, living room;
CONTEMPORARY DESIGN
White faux marble veneer tabletop paired with gold metal legs, modern and elegant style catch your eyes at a glance.
DURABLE AND STABLE
This living room gold coffee table is made of high-grade thickened MDF Board and 0.79" powder-coated metal legs, adjustable leg pads protect the floor from scratch and it won't wobbling on the floor.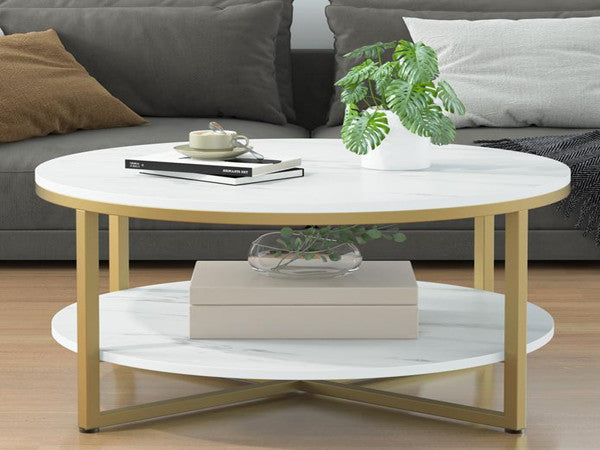 EASY ASSEMBLY
Hardware and tools included. Just follow the steps of enclosed instruction, quick and easy to set up.
100% Satisfaction Guaranty: Tribesigns offers 18 months quality assurance and friendly after sales service for all our products. If you have any problem with our product, please feel free to contact us, we'll try our best to solve it as soon as possible.
$159.99
Tribesigns 2-Tier coffee Table, Minimalist Faux-Marble Accent Table Night Stand
Versatile End Table
White side table can be moved to any place you need, perfectly combined with any style and decoration! It can be used as an end table, nightstand, accent sofa, and lamp table to fulfill your daily needs. An ideal choice for your living room, bedroom, balcony, hallway, kitchen, bathroom, and reception room.
Delicate Design & Space Saving
Clean lines and small footprint, a good helper for your stylish room! Light table body makes it easily move to the place you want. Faux-Marble table top and strong metal frame creates an elegant aesthetic style with multi-functionality. Cleaning and maintenance is so simple that you have it always as a newly bought one.
2-Tier Accent Table
Two enlarged table provides more space for display. Place drinks and coasters on the top tier, then use the bottom for books and magazines or a vase of flowers. Rounded edge design can prevent potential damage. Minimalist open shelf design for easy access and storage. It can be used as a Sofa Table, Foyer Table, Coffee Table, Mini Table, or Bedside Table.
Sturdy Structure
The bracket is built with lightweight metal, firm and stable. Constructed of E1 grade particleboard, waterproof and wear-resistant. With anti-slip mat on the bottom to avoid wobbling. The four legs are welded with rods on base to ensure stability. The solid structure, smooth surface, and elegant design comprise this small modern side table.
Safe Refund & Return
If you're unsatisfied for any reason, we offer you a 100% refund or return guarantee for this storage shelf within 30 days, no question asked. We stand by our high-quality Console Tables. You are also welcomed to contact our store for any communication, Tribesigns excellence service will bring you a smile within 24 Hours. NO RISK, ORDER NOW!
$49.99
Tribesigns Moder Nesting Side Table, Set of 2, Round Metal Base Nesting Set End Tables
MODERN DESIGN
The Tribesigns coffee tables nest within one another and feature a round shape for a modern aesthetic
QUALITY MATERIAL
Each of these coffee tables has a 100% metal construction for a sleek look and ultra resiliency
TWO SIZES
This set of nesting tables features 2 sizes, the larger featuring a 19.69-inch diameter and 23.82 inches tall while the smaller table has an 15.75-inch diameter and is 20.47 inches tall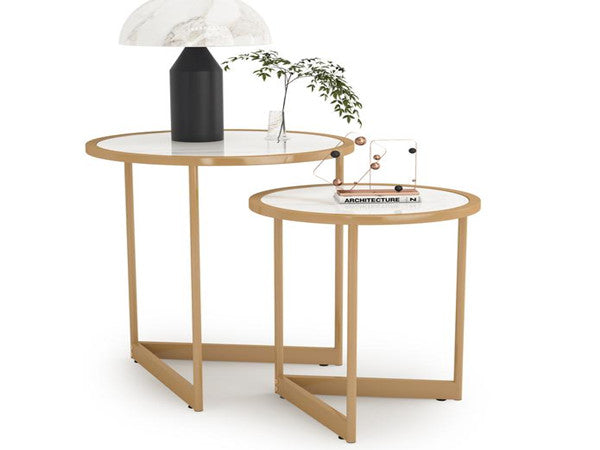 VERSATILE
These two tables are great for display together or spread throughout your home for a cohesive decorative aesthetic
EASY TO ASSEMBLE
Putting together the tribesigns end table requires no tools for a quick and no-hassle assembly process
$89.99
Tribesigns Round Coffee Table, Wood Coffee Table with 31.5" Diameter Thicken Tabletop
MAKE AN IMPRESSION
A Great round coffee table for living room, inspired by industrial design and clean lines sense, with rustic finished surface, could works perfect with other furniture in your house and spice up your HOME taste and impress your guests.
SIMPLE BUT CHIC
A large thicken tabletop provides plenty of space, with X-Shaped support on the bottom. If you have play board games with your friends, there are plenty of room on the bottom for foot retracting, make your home joy and laughter everywhere.
DURABLE IN USE
Different from other regular leisure tea table, SELECTED MATERIALS applies 1.97"thickened E1 particle board for tabletop, 0.78" x1.57" thickened metal frame, which ensures the stability and large load-bearing capacity of the living room coffee table, built for years to come. Overall dimension: 31.5"L x 61.5"W x 19.68"H.The weight capacity is 400bl.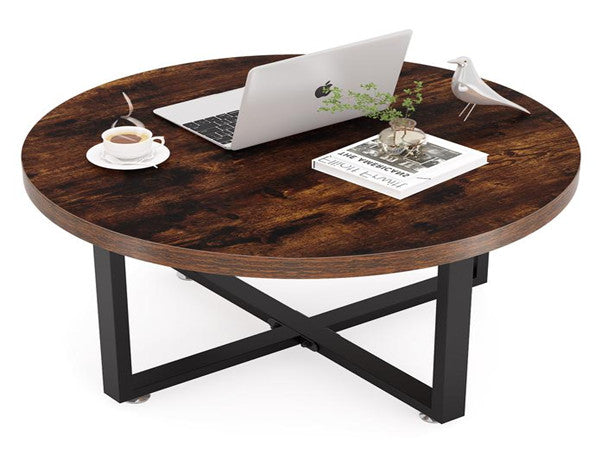 USED ANYWHERE
As a tea table for small talk in your living room, as a low coffee table for afternoon tea in your rest room, as a play table for board game in your bedroom...It would be a perfect table for your HOME. Choose Tribesigns living room coffee table, peace of mind at ease, PICK IT!
FAST ASSEMBLY
All components were labeled, all tools and detailed instructions were included. It would be assembled in no time with minimal effort. If you have any problem about our round wood coffee table, please feel free to contact Tribesigns customer service at your earliest convenience.
$125.99
Coffee table type
A square table of 760mm x 760mm and a rectangular table of 1070mm x 760mm are commonly used coffee table sizes. If the chair can extend into the bottom of the table, even a small corner, you can also put a six-seat coffee table. The width of the 760mm coffee table is the standard size, at least it should not be less than 700mm, otherwise, the coffee table will be too narrow and touch each other's feet when sitting opposite. The feet of the coffee table are best retracted in the middle. If the four feet are arranged at the four corners, it is very inconvenient. The height of the coffee table is generally 710mm, with a seat of 415mm height. The table top is lower so that you can see the food on the table more clearly when you are dining.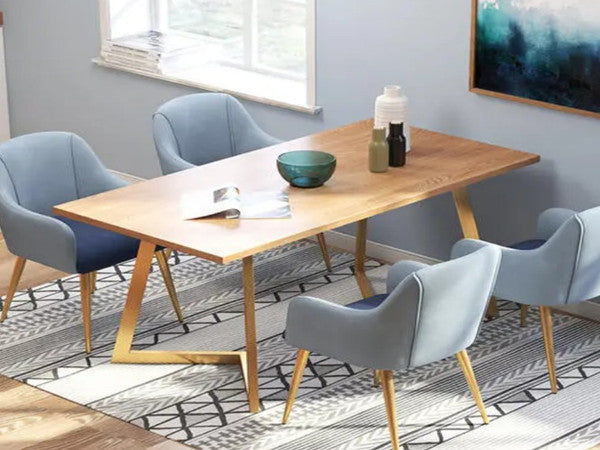 If the dining room furniture is square or rectangular, the diameter of the round table top can be increased from 150mm. In general small and medium-sized residences, if a coffee table with a diameter of 1200mm is used, it is often too large. A round table coffee table with a diameter of 1140mm can be customized, which can also seat 8-9 people, but it looks more spacious. If you use a coffee table with a diameter of more than 900mm, although it can sit on many people, it is not suitable to place too many fixed chairs. Such as a coffee table with a diameter of 1200mm.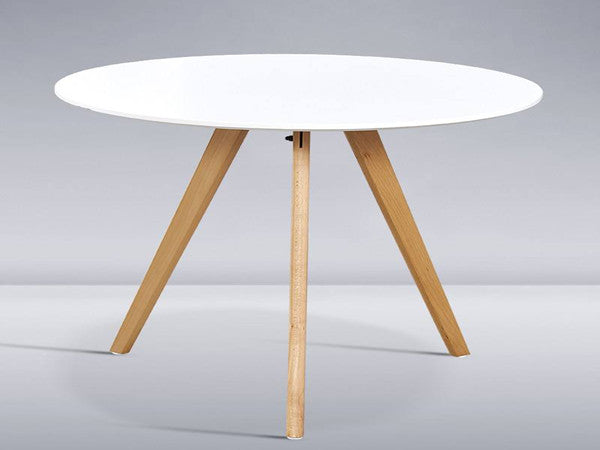 Put 8 chairs, it is very crowded. Can hold 4-6 chairs. When there are too many people, use folding chairs, which can be stored in the storage room.
3. Opening and closing table
The opening and closing table is also known as the extended dining table. It can be changed from a 900mm square table or a round table with a diameter of 1050mm to a long table or oval table with a diameter of 1350-1700mm (various sizes). This kind of dining table has been popular since the 15th century,
It has a history of 500 years and is a very popular dining table. But pay attention to its mechanical structure. It should be smooth and stable during a meeting, and it should be easy to align and close when folded. With a round dining table, you can get better space adjustment. Another advantage of using round tables for dining is that there is a greater tolerance for the number of people sitting. As long as you pull the chair away from the tabletop, you can sit on the fire more. There is no disadvantage that it is inconvenient to sit in a corner position when using a square table.
Coffee table style
1. Leisure and elegance
The choice of unique coffee tables styles should take into account the attributes of the consumer group. In the design, we should also pay attention to highlighting the leisure. We must also pay attention to the beauty and artistry of the shape. On the other hand, the coffee shop tables and chairs are required to be fresh, clear, elegant and fashionable in shape. 
2. Full of artistic flavor
Some shops will position the coffee shop as a medium-sized consumption level. As the largest number of furniture in the space and occupying a large area, coffee shop tables and chairs have become the main body of the coffee shop space. The design requires aristocratic temperament and Artistic in shape.
3. Practical and comfortable
The most important element of a coffee table is practicality, that is, it is convenient to use and requires good comfort. The dining chair or sofa chair must have a good sitting feeling, so as to bring a good experience to the user and be considered good the design of.
Coffee table material
At present, the common large coffee table material is generally wood or marble surface, and the chair is generally a sofa. This kind of material is relatively soft, clear texture, fine and uniform structure, strong corrosion resistance, no deformation or cracking. The quality is medium, with environmental protection characteristics. It is a good choice to make a dining table with this solid wood material.
Coffee table size guide
Coffee table length
To find the ideal length, choose a modern coffee table that is approximately two-thirds the length of the sofa. For example, a sofa that is 84 inches in length requires a coffee table that is approximately 56 inches in length. The advantage of this is that no matter which side of the sofa you sit on, you can reach the outdoor coffee table, and the overall layout is very beautiful.
Coffee table placement
We want to associate the coffee table with other furniture in the home. We need to place the black coffee table not far from the sofa and chairs. We can put some words and green plants on the white coffee table.
Coffee table height
The coffee table sets should be the same as the top of the cushion on the sofa or chair or one to two inches shorter. Higher, the table may overwhelm the rest of the furniture in the space. Put a book on the coffee table and eat, and you can enjoy a good life at home on the weekend.
People also ask these questions
What are the most important things to choose a wood coffee table?
If you want to put accessories on your center table for living room, it should blend in with the furniture in the room. So a simple design that has similar lines and style to your couch, chairs and so forth is important. If you want it to be the centerpiece itself, a unique design such as a hand decorated table, or modern curved piece would work. If you plan to use it to actually put drinks on, a non-wood surface, such as glass is better, and a glass table takes up less space visually if the room is small. As far as size, you should have at least 30 inches between coffee table and the seating. The most important thing about a coffee tables for sale depends on what else is in the room.
Do you need cheap coffee tables in a small space?
Every living room should have a light wood coffee table, even in a small space. It's important to prioritize function over form. Coffee tables are a quality staple in any living room, allowing you to hold your drinks, magazines, remote, and any other decor you may want to bring the room together.
Can you use a side table as a coffee table?
As with many of the other coffee table alternatives, because it's small and light, it's easy to move around or repurpose in the room in another way if you tire of using it as your "coffee table." A side table can definitely work in place of a coffee table.
Should a coffee table be higher than the sofa?
The height of a coffee table is important. It should be no lower than 1-2 inches from the seat of your couch. The standard height for a table is 16-18 inches and pairs well with a typical sized couch. A higher sofa requires a taller table, one that is 20-21 inches in height.
What is the difference between desks and table?
A work desk is a type of furniture you do your works on it, like an executive or height adjustable desk. while a table can be used for several uses, like the coffee and meeting table.
Are desks or tables better in classrooms?
It's easier to keep clean. According to our custodians, the tables are much easier to wipe down than the desks, which means better cleanliness overall! It takes a lot less time, too!
Do you have to study on a desk?
Without a desk, many students often choose to study from the comfort of their sofa or bed. However, working from these places, rather than a desk, are likely to be impacting your energy levels, as well as your sleep pattern – both of which are key to succeeding with your studies.
Types of tables
Makeup Vanities Console Tables Writing Table Side Tables Coffee Tables
Bathroom Vanities End Tables Nightstands Bar Tables Bar Table Sets
Dining Tables Extendable Dining Tables
Precautions for the placement of coffee tables
1. Choose such a black soft stool as a coffee table in the living room to add a calm temperament to this colorful living room. The height of the unique coffee tables should be consistent with the height of the surrounding sofas and seats, generally around 60cm.
2. For a living room with seats on all sides, a round coffee table is the best choice, regardless of priority, to ensure that it can be touched in any direction.
3. If you like retro style, you can choose such an antique trolley as a coffee table, which can create a strong retro feeling. And when buying, you must pay attention to check the pulley to prevent scratching the floor or carpet.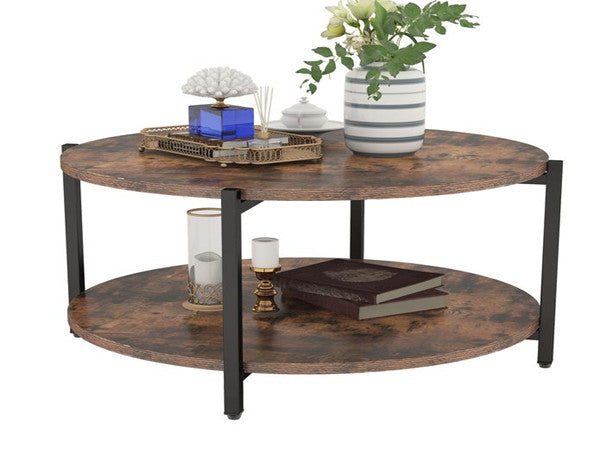 4. For you who are fascinated by art, such a sculptural wooden coffee table will add luster to your living room. The clear wooden texture and smooth lines exude an elegant temperament. When using, pay attention to put the coaster in advance to prevent scalding the coffee table.
5. The height and width of the coffee table are not necessarily your real needs. In addition to basic practicality, it must also meet the aesthetic requirements of the space. In the white living room in the picture, a low black coffee table is placed in the middle, creating a sense of dislocation in the line of sight, and at the same time, it will not block the TV cabinet in front, which is in line with the principle of proportion of home decoration.
The above is the knowledge sharing on how to choose a coffee table, I hope it will be helpful to you.