The Design or Selection Guide for Kitchen Bar Tables
With the development of society, people's needs for the living environment are gradually changing, and the bar Table is more and more applied to the home design as the finishing touch. If you like and plan to design a small bar Table for your home, then you must not miss this article.
What Are The Uses Of The Bar Table?
1. Serve As A Dining Table
The bar table is especially suitable for small-scale home decoration design. If there is no independent restaurant space, the bar table can be used as a dining table, making the space coherent and satisfying the needs of daily dining.
2. Act As A Console Table
In terms of practical functions, the bar table can not only be used as a dining table, but also can be transformed into a supplementary operating table for the kitchen during cooking. The design of multi-functional transformation is very practical.
3. Serve As A Workbench
In addition to being connected to the kitchen, some people will add a small bar table in the study, living room and other spaces to use as a workbench for working and study.
4. Act As A Partition
In some open kitchens and living rooms, the bar table is often used as a partition, which plays the role of regional division while ensuring the permeability of the space.
5. For Storage
A cabinet is set under the bar table, which can be used for storage, especially suitable for small apartments with limited space.
6. Leisure Space
The bar table is also common as a leisure area. Whether it is reading a book or tasting wine, even if it is just sitting and resting, it is unique.
Where Is The Bar Table Installed?
Bar table have a very wide range of applications. It is more common to install them in kitchens and dining rooms, but in fact, bar tables can also be installed in living rooms, balconies, and even bedrooms, and they have different effects.
The open kitchen and the bar table can be described as a natural pair. The bar table extends the work surface of the kitchen and separates the space inside and outside.
If it is a small living room, integrating the dining table, bar, and kitchen together can greatly save space.
You can also move the bar table to the balcony or window as a leisure area.
What Is The Material & Style Of The Bar Table?
The material selection of the bar table is also very rich, and the corresponding material can be selected according to the decoration style and specific location.
1. Wooden Bar Table
Wooden bar tables are mostly used in restaurants and rooms, and there are also many choices of plate styles. It is characterized by being flexible and diverse, and basically various designs can be realized.
2. Stone Bar Table
The support and countertop of the stone bar are generally made of marble, and the integrated design is beautiful and smooth.
The disadvantage is that there is no storage function, and the cost is high. It is suitable for open kitchens with large apartments.
 3. Combination Bar Table
The bar also has a combination style of cabinet & countertop, which is also the most common bar shape, which is generally extended from the sideboard/wine cabinet.
This kind of bar table is usually customized with the cabinet, and the overall shape is generous and suitable for various spaces.
What Is The Right Size Of The Bar Table?
Height
The height of the bar table is based on its nature and function. The bar table is purely used for drinking and chatting with family and friends, so the height of the bar table should be set at about 36"-42".
If your bar table also functions as a dining table, then the countertop should be lower, and it is suggested that the height should be about 28" to 30".
Width
The width of the bar table is actually not as strict as the height. Generally, if there is no special need, the width of 24" to 28" is sufficient.
Depth
To make it more comfortable to sit down and to avoid problems with your knees all the way to the front bar. Generally speaking, a distance of 10" to 16" is ideal.
The Type Of Bar Chairs To Match
In the design of the home bar table, the bar chair must not be ignored. Its types mainly include the following categories.
1. Backrest Bar Chair
Backrest bar chairs are actually similar in shape to ordinary chairs, but differ in height, and their proportions and higher back make it suitable for almost everyone.
2. Semi-back Bar Chair
Although the backrest of this bar chair is relatively low, it is quite comfortable.
3. Low-back Bar Chair
The backrest of this type of bar chair is only a small section, but the backrest of the bar chair is not a backrest in the true sense, it is only for decoration.
4. Bar Chair Without Backrest
For small spaces, this kind of bar chair is the best choice. design of the backrest, leaving only the body of the chair. It is small and exquisite, and can be stored directly under the countertop, reducing the occupation of home space.
5. Metal Bar Stool
A simple and functional all-metal bar chair that just provides a place to rest without excessive design and decoration.
6. Upholstered Bar Stool
The Cloth or leather bar chair is a classic choice, and its comfort can meet people's preferences.
Tribesigns kitchen Bar Table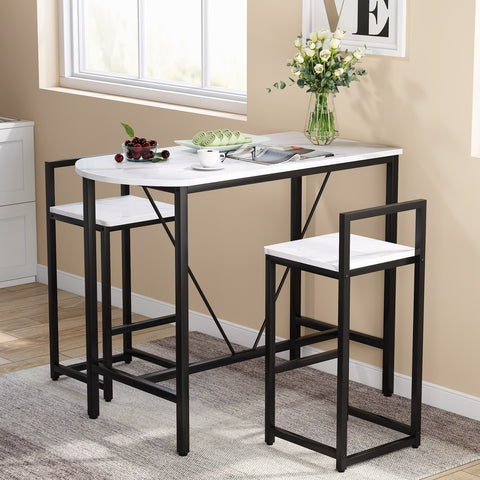 HOGA-XK00032
Whether you're a college student with your first apartment, an office worker living in a small space, or newlyweds just starting out, this 3-piece dining set would be your perfect choice and also good for a great gift.
Features:
3-Pcs Bar Dining Table: The bar table set includes a dining table and 2 sitting seats, good for two people s living to place in the kitchen as a breakfast nook. Humanized design. The seat is equipped with a backrest, and the under-rails are great for relaxing your legs. Comfortable and Convenient.
Safe & Elegant Design: Small table set that is also cute and went with your other decor. The arc on the side of the tabletop and the rounded corner design of the stool not only protect the safety but also add a warm and moist feature to the whole pub dining table set. The faux marble tabletop is beautiful and easy to clean.
Solid Bar Table: Solid bar table with 2 stools. Made of high-quality particle board and a heavy-duty frame, our bar pub table, and chairs are stable and sturdy. Weight capacity of each chair: 154lbs, the table can bear 110lbs. Adjustable foot pads make the bar table stable and won't wobble.
Super Functional: Simple pub table set has great use. The narrowness of the bar table is perfect for pushing up against the wall. They don't take up a ton of space but provide a great alternative spot for students to write, office workers to work, and families to eat breakfast.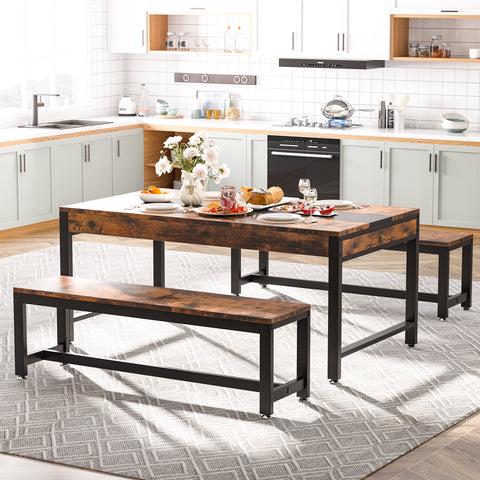 HOGA-C0652
A symbol for a family get-together, home-cooked meals, and conversation, this dining table set is a must-have for every home. Come with a spacious table and 2 large benches, this kitchen dining set allows 4-6 people to sit together. Besides, the benches can be tucked under the table, which is ideal for limited living space to use. Sided drawer design increases extra space for storage. High-quality steel and MDF board ensure its durability and firmness.
Features:
Dining Set with Bench: No matter enjoy your quick breakfast or host your friends and family with a big dinner, this 3-piece dining set is an ideal choice for your dining room or open kitchen. Both 47.44'' long benches can fit 4 to 6 people.
Spacious Tabletop & Sided Drawer: 55.1"(L) x 26.7"(W) desktop offers plenty of space to hold salad, bread, roast chicken, fruit, beer, tableware, etc. This kitchen table with sided drawer provides extra space for storing napkin paper, knives, forks, and bottle openers, making everything you need within reach.
Space-saving Design: The bench with a backless design can easily pull out when in use and push in under the table to save space when not in use.
Solid Construction & Adjustable Leg Pads: Crafted with a heavy-duty iron frame and thick MDF board, this set is sturdy and durable. Adjustable leg pads can keep tables and benches level on uneven ground. The tabletop can hold up to 450 lb, while each bench can hold up to 550 lb.
Multi-Purpose: Not only used as a dining table set but used as a large bar table or writing desk, this industrial table set fits in more scenes like dining room, kitchen, café, restaurant, and other commercial venues.
HOGA-K0007
This charming, modern bar unit is sure to delight your guests with its smooth, curved silhouette. With 2 storage shelves and 3 convenient racks for stemware, this bar unit offers plenty of storage for all of your organizational needs. An elevated counter is great for mixing your favorite beverages, while a foot rail down below lets your guests kick their feet up while enjoying your cocktail creations.
Features:
Modern Chic Design: Designed with a half-moon silhouette and striking black appearance, this chic Bar Cabinet will be a perfect accompaniment for your home bar to create a relaxing place for drinking with your family and friends.
Large Storage Space: The elevated counter is great for prepping and serving drinks, bottom shelves are perfect for storing wine bottles, while 3 rows of stemware racks can hold up to 12 wine glasses and champagne flutes.
Versatile Bar Table: Create a classy entertaining spot for happy hour cocktails or holiday gatherings with this modern-inspired minibar, it's perfect for the living room, dining room, kitchen, and blends well with any decoration style.
Reliable Construction: Our home bar is made of a 0.98"strong iron frame with metal mesh reinforcement that is sturdy enough to hold all your bar accessories. The shelves and bar top are made of premium MDF for scratch-resistant and easy to clean.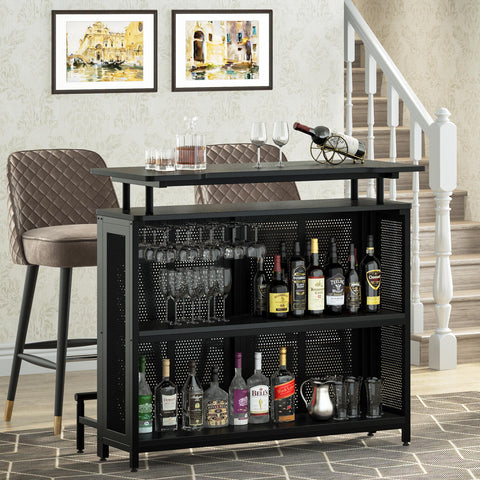 HOGA-C0555
Make your bar space functional as well as aesthetically pleasing with this versatile bar unit. Featuring sturdy wood and metal construction also comes with 5 stemware racks and 2 interior shelves. The rectangular top can be used for serving as well as decorative purposes, while the open compartments offer additional storage space.
Features:
Space for All Your Wine: Enjoying your favorite drinks on the generous sleek top of the bar unit, and 2 interior shelves keep spirits, mixers, and more where the barkeep can see them, while 5 built-in stemware racks hold up to 15 wine glasses, champagne flutes, or snifters.
Bulid to Last: Overall Size: 47.2" W X 19.7" D X 41.3" H. The quality particleboard desktop and sturdy iron structure come together to make this liquor cabinet heavy duty and work perfectly. The 0.98" strong iron frame gives the stability of this wine storage bar table and ensures the long-term use.
Responsible Design: The 6 adjustable feet keep the bar cabinet stable on uneven floors, never worry about the bar table being overloaded! Perforated mesh hole design will not only modernize your room but also help to prevent overheating and keep your bottle of wine in a good storage condition.
A Permanent Guest: Host guests or play bartenders with the one-sided shelves and clean front, complete with a foot rail. With a simple white finish, this home liquor bar table design brims with a modern and industrial style, which is perfect for the contemporary entertainer.
The above is about what you need to know before selecting and designing the bar table, as well as recommended 4 types of Tribesigns kitchen bar table worth buying. We hope these can help you!