17 best-selling kitchen bakers rack are waiting for you to choose
I believe that every housewife sometimes feels that the kitchen space is very small, no matter how big the kitchen is, in fact, the root cause of this is that we buy too many knives or ingredients and do not arrange them regularly. So in our eyes, it will be very messy, which also leads to the narrow space.
A kitchen is a place where there are many odds and ends in the house, such as various seasoning bottles, tableware, kitchen utensils, etc. However, the space in the kitchen is often not very large. If you want to have a neat and clean kitchen environment, then kitchen shelves and kitchen cabinets are essential. Many friends do not know what to choose or do not know how big to choose, so this article organizes some specific kitchen shelves for you, suitable for various apartment types, let's look down together.
Here I would like to share with you my experience in choosing a kitchen bread rack, I hope it can help you. I believe you, like me, will have the same question: what should I pay attention to when buying a kitchen bread rack? How to choose the tall bakers rack? What should I pay attention to when placing a bread rack in the kitchen?
For the convenience of reading, this article will mainly expand from the following aspects:
What should I pay attention to when buying a kitchen shelf?
What is the best material for the kitchen bread rack?
Kitchen bread rack purchasing skills
4. cost-effective kitchen bread rack recommended
People also ask these qeustions
Precautions for placing kitchen shelves
What should I pay attention to when buying a kitchen shelf?
Check whether the base of the shelf is firm and whether it is easy to shake when pushing and pulling;
Since the shelves in the kitchen have been in a humid environment for a long time when purchasing, it is necessary to see whether the material of the shelves will not corrode, deform or rust in a humid environment, such as stainless steel and alloy shelves.
Check whether the bearing capacity of the rack is good and whether the hanging heavy objects will be deformed. You can choose according to your actual storage weight.
Kitchen bread racks and wall racks are basically made of space aluminum, stainless steel, carbon steel, wood, and other materials. They need to abide by a rule: light, able to carry weight and have great bearing capacity. It is mainly fixed on the wall in a vertical or hanging way.
The bread rack made of space aluminum is mainly formed by extrusion and stretching. It can be set according to different functions, with chopsticks holder, knife holder, towel holder, paper roll holder, etc. The production process involves oxidation, injection molding, machining, stamping, polishing and grinding, and other processes; because of its anti-corrosion ability, it can resist oxidation and can be used for a long time.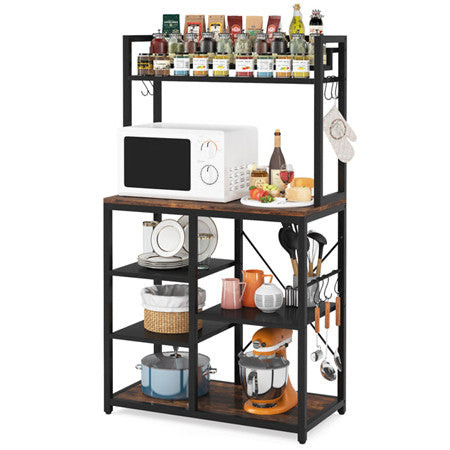 Stainless steel and carbon steel kitchen bread racks and wall bread racks are mainly welded, and racks of various shapes can be made according to requirements. The production method is relatively simple, but the quality depends on the individual craftsmanship of the production workers. Companies with relatively affordable decoration prices in Wuhan remind that they are vulnerable to water vapor, easy to oxidize, and need to be preserved.
Wooden bread racks are generally processed, solid wood boards. Only solid wood boards can have sufficient load-bearing capacity. The production method is relatively simple, and the solid wood rack is environmentally friendly and very beautiful.
Kitchen bread rack purchase skills
Look at the material
The material of the bread rack determines its waterproof, anti-corrosion, and anti-rust performance. Because the environment where the kitchen rack is located is different from that of other racks, it is often in contact with water, vinegar, alkali, and other substances, so the requirements for the material will be higher.
The above introduces the material of the kitchen bread rack, and you can choose reasonably according to your own needs. Generally, the 304 stainless steel shelf has better rust resistance and acid resistance, and the service life will be longer. Space aluminum is also often chosen for its durability and durability.
Look at the load-bearing bread rack is mainly used to store things, such as the condiments in the kitchen such as soy sauce, vinegar, etc. are relatively heavy, we have to consider its weight when purchasing, it is especially important for wall-mounted racks!
The weight of the bread rack is mainly related to the quality of the mesh, the linking process, and the thickness of the tube wall. Generally speaking, the welding process of high-quality mesh is more precise, has a tight mesh, is not easy to bend, and has excellent weighing performance. The inferior mesh cannot meet the load-bearing requirements and can only store some small items.
Look at the capacity
The selection of modern bakers rack should be based on the number of households. If the number of households is large, we have to choose large-capacity storage racks, so as to meet our daily needs and store more kitchen utensils.
Look at the depth, this is a more detailed, but more practical purchasing skill. The deeper the cheap bakers rack, it is not easy to slip off when storing dishes, and it will be more worry-free to use. If the bread rack is too shallow, the dishes are prone to unstable storage and slip and fall causing damage.
Look at the non-slip mats
Anti-slip foot pads are really important for floor racks. When purchasing, you must check whether the base is firm? Is the push and pull easy to shake? Are there non-slip feet? It is best to have a shelf with a height that can be adjusted freely, which will be more convenient and practical. It can meet the needs of different scenarios.
See if it is easy to move
If you want to buy a multifunctional best bakers rack, you have to consider whether it is easy to move? Since we will often move the position of the kitchen furniture, it will not be difficult to move or a large bakers rack with wheels will make it more convenient for us to use.
4 cost-effective kitchen bread rack recommended
Tribesigns 5-Tier Kitchen Bakers Rack
【Space Saving & Multifunctional】
This storage shelf has high on utility, not only a kitchen island, but also as an elegant bookcase, microwave stand, spice rack organizer, bathroom cabinet, wine board for living room, and can harmonize with any other rustic furniture in any room. The vertical structures don't take up space and add more storage space for bedrooms, kitchen, pantry, or bathroom.
【Everything In Its Place】
Come with a total of 3 bottom shelves and 2 top shelves, this microwave rack is an excellent storage option for the eat-in kitchen. It is ideal for holding a microwave, oven, and some of your other kitchenware or bits and pieces, as well as storing spice, plate dishes, and any other things you want. Your kitchen will become tidy!
【Large Countertop & Hutch Design】
This kitchen stand features a 31.5" L x 15.7" D tabletop to provide a sturdy working surface, which is durable and easy to clean. Two slatted upper shelves are ideal for displaying your favorite cookbooks, jars of spices, and canisters of dry goods.
【Solid Construction & Reinforced Rod】
Strong iron frame and quality 0.59" thick chipboard enhance the strength, so you can put all you need on this baker rack. 6 reinforced iron rods of each tier prevent items from slipping and increase the loading capacity. Floor levelers not only can be used on uneven ground to prevent scratches but also make adjustments of height to meet your various demands.
【SUPER EASY ASSEBMLY】
You don't need to an expert on the assembly of this kitchen shelf, as it comes with numbered parts and step-by-step instructions to make it easy-peasy. Pls, contact us for any damage or replacement. We provide 18 months warranty and friendly customer service.
Size:31.5" L x 15.7" W x 66.5" H
$169.99
HOGA-C0176
Tribesigns Kitchen Bakers Rack with Hutch, 5-Tier Kitchen Storage Shelf
BOTH DRAWER AND SHELF
This baker's rack merges display and storage into one unit—A big drawer for out-of-sight storage to meet your various needs. 5 open shelves for a microwave, toaster, coffee machine, jars of spices, canisters of dry goods, etc; 8 extra S-shaped hooks are perfect for hanging kitchen towels and cooking spoons.
BUILT TO LAST 
Measures 62.99'' H x 31.5'' W x 15.74'' D. The utility storage shelf is crafted from thick chipboard and reinforced by a strong metal frame, this 5-tier microwave oven stands for the kitchen features superior solidity and stability to last for years. The vertical structures don't take up space and add more storage space.
VISUAL CHARISMA 
Classic clean design and modern white finish with this tall shelf with storage. It has melding industrial beauty and urban styles together, it can serve as an accent piece and add depth to your living area. Give your kitchen a refresh that's as charming as it is practical.
NOT ONLY A KITCHEN BAKER RACK 
This kitchen storage rack with shelves is not only for cooling down pies and cakes, but also an excellent storage rack for fruits, canned goods besides the dining table; also as an elegant bookcase, microwave stand, spice rack organizer, entryway storage shelf, bathroom cabinet, wine board, etc.
Size:62.99'' H x 31.5'' W x 15.74'' D
$199.99
HOGA-JW0107
Tribesigns 35.5 inches Kitchen Baker Rack Microwave Oven Stand
Space Saving & Multifunctional
Measuring 35.5"(L)x15"(W)x52"(H), this kitchen shelf doesn't take up space, it is a great choice to be microwave cart, baker's rack, kitchen island, spice rack organizer used in your kitchen, bathroom, or as a different free-standing shelf in your bedroom or where you need some extra storage space. The stylish design is perfectly compatible with kitchen decor and also adds a touch of vintage charm to your kitchen.
5 Tier Storage & Top Hutch
The multi-layer racks provide ample space to store a toaster, microwave oven, coffee maker, food spices, dishes, cooking utensils, and fruits. The long top panel can hold a microwave oven and other kitchen appliances. Well-designed distance between each tier is high enough to accommodate big stuff.
Pull out Basket & 6 S-Hooks
Movable wire basket is very practical to store recipes, cutlery, fruits, vegetables, or towels. Six hooks on the sides make it convenient to hang some cooking tools like pots, pans, utensils, or cups.
Durable & Stable
Crafted with a 0.59"MDF and rust-proof metal frame, this kitchen stand provides you with long-lasting use. back "X" style design provides additional stability, durability. Adjustable feet on the bottom help keep everything in place, even on uneven floors.
Size:35.4" L x 15" W x 52" H
$139.99
HOGA-C0196
HOMCOM Utility Kitchen Cart Rolling Kitchen Island Storage Trolley with Rubberwood Top
- BUTCHER BLOCK DESIGN
The large tabletop of this serving cart for dining room has a natural color rubberwood top to mimic the feel of a butcher block for chopping, cutting and preparing food.
- KITCHEN STORAGE
This kitchen storage cart offers 2 drawers to hold utensils, napkins or dishware while the side cabinet and bottom shelf provides a larger storage space for dry goods or cleaning supplies.
- CONVENIENT HANDLE
Attached to the rolling island is a push handle that can also be used as a towel rack to clean your while during use.
- EASY MOBILITY
This kitchen island cart has 4 caster wheels to move around your kitchen and 2 breaks to hold in place while you're using it.
- KITCHEN TROLLEY INFORMATION
42.5" L x 17.75" W x 35" H. Weight Capacity: 110lbs.
$171.99
Tribesigns 6-Tier Kitchen Baker's Rack with 6 Hooks and Hutch
[Compact Design & Industrial Style]
Come with 6-Tier shelves, 2 pull-out Wire Baskets, and 6 Hanging Hooks, this vertical bakers rack doesn't take up too much space. Blending of industrial style and functionality, it harmonizes with all kinds of furniture decor in any room.
[Spacious Storage Space]
The middle countertop is specially made for storing microwave and toaster, 2 wire baskets can keep dishes, fruits, and vegetables easy to access, while 6 removable hooks are perfect for hanging cooking spoons, and kitchen towels.
[Multipurpose Kitchen Shelf]
The utility shelf provides an excellent storage option for your home mess. It is not only a kitchen island, but also a microwave oven stand, spice rack, bookshelf, bathroom cabinet, wine board, and coffee bar.
[Solid Construction]
Made of durable particleboard and a sturdy metal frame, this microwave stand is strong enough to support all of your kitchen goodies. The "X" crossbar on the back reinforces the kitchen shelf and adjustable feet can keep it stable on uneven floors.
[What Your Get]
Come with a Kitchen Baker's Rack, a set of assembly tools, and an instruction manual. Enjoy lifetime professional customer service and a worry-free experience with a free exchange for damaged and missing parts.
size:31.5" L x 15.75" W x 62.99" H
HOGA-C0410
$189.99
HOMCOM Kitchen Cart, Rolling Kitchen Island Utility Trolley with Stainless Steel Top
- AMPLE STORAGE
This kitchen cart features two shelves to store kitchen utensils and dishware. Each side is armed with metal handle for easy movement and towel storage.
- STAINLESS STEEL TABLETOP
The stainless steel tabletop is easy to clean and spacious enough to prepare your ingredients. The kitchen island cart is fitted with MDF for long-lasting.
- SLOTTED SHELF
The middle slotted shelf helps display kitchen mixers and equipments, or works as a wine rack to hold bottles and glasses.
- ROLLING TROLLEY
4 smooth casters with 2 brakes provide the serving cart easy mobility and stability. Also can be used as a microwave stand, coffee bar or kitchen storage cabinet.
- OVERALL DIMENSION
42.5" W x 19" D x 35" H, Weight Capacity: 88lbs.
$278.99
Tribesigns Baker's Rack, Kitchen Microwave Stand with Storage Shelves
INCREDIBLE CAPACITY
Features 3 ample lower shelves and 3 upper hutches, 2 hanging bars on the left side, and 6 hooks on the right side, this baker's rack has lots of space to store kitchen supplies while helping you need within reach.
OPEN-UP KITCHEN UTILITY RACK
A kitchen microwave stand with multiple open shelves, provides you free up plenty of space to prepare meals. Furthermore, the microwave, coffee maker, toaster, spice, pots and pans, and other kitchen essentials could be organized in perfect order.
SELECTED MATERIALS, FIRM AS A ROCK
This industrial baker's rack with storage applies thickened E1 particle board and painted metal frame, which ensures the stability of the microwave stand, built for years to come.Overall dimension: 35.43"L x 15.74"W x 70.86"H.The weight capacity is 330bl.
SURPRISINGLY ELEGANT
This free-standing storage shelf rack does not only help organization for the kitchen, but also an excellent buffet shelf beside the dining table; Store washing supplies in your bathroom; Or display your decors or others in your living room.
size:35.43"L x 15.74"W x 70.86"H
$159.99
HOGA-JW0063
Tribesigns Kitchen Baker's Rack, 5-Tier Microwave Cart Oven Stand
【Multifunctional Bakers Racks for Kitchen with Storage】
Whether you need a microwave stand, baker's rack, kitchen island, coffee bar stand, or standing spices utensils storage shelf for your kitchen or dining area, this powerful kitchen helper serves all the purpose well
【Sturdy Construction, Solid as a Rock】
The kitchen shelf with hutch constructed of 0.6" thick high-grade particle board with a sturdy metal frame to ensure large weight capacity, it is sturdy enough to hold heavy items from cookbooks to a microwave, toaster oven to even a coffee maker
【Incredible Large Storage Capacity】
5-Tier Design with multiple open shelves has ample space for a coffee maker, toaster, cookbooks, spice, and other kitchen essentials. This tall microwave shelf doesn't take up too much room in your kitchen, but sure does free up a lot of counter space
【8PCS Movable Hanging Hooks】
8Pcs bonus hanging hooks which create additional storage for hanging coffee mugs, cooking spoons, oven mitts, or kitchen towels
Size:35.4" L x 15.9" W x 55" H
$155.99
HOGA-K0054
Tribesigns Industrial Kitchen Baker's Rack with 6 Hooks, 5-Tier Utility Cart
【Kitchen Shelf with Industrial Design】
Anchor your kitchen or dining room in rustic industrial style with this industrial baker rack; 5 tier open shelves are a convenient way to add additional space and organization to your kitchen; with this kitchen shelf, vegetables, cookware, and other groceries will be neatly organized
【Ample Storage & Saving Space】
With a 5-Tier design, you can store toaster, oven, juicer, spice, dishes, cookware, and any other items you want; 6 hooks are offered to hang spoon, spatula, brush, etc; this kitchen storage shelf takes advantage of vertical space of your kitchen or dining room
【Solid Construction】
Constructed by good quality MDF board and metal frame, this kitchen rack is sturdy and its weight capacity is up to 253 lb.; the back baffle of every shelf enhances the stability and prevent objects from falling down
【Multi-purpose】
This free-standing backer rack not only can be used as a kitchen backer rack, but also can be used as a bookshelf, a spice rack, or a storage rack
【Easy Assembly】
Follow the instructions, it'll take about 20 minutes for 2 people to assemble ( any problem with our product, please feel free to contact us)
Size:31.49''L x 15.74''D x 64.56''H
$169.99
HOGA-CJ167
Southern Enterprises Soliz Iron and Wicker Bakers Rack
Simple and stylish, this baker's rack solves the storage issues of the kitchen. Take advantage of the four spacious, wicker basket drawers to store your dishtowels, kitchen gadgets, cookbooks, and more. This versatile kitchen tower features a warm, oak counter with a butcher-block style appearance. Above the countertop, the two deep wire shelves are perfect for showing off fancy plates or spices. Attractive and beautiful, this traditional baker's rack will make a wonderful addition to your kitchen or dining room.
Wrought iron scrollwork adds traditional touch
Mixed materials composition
Size:Width: 28.00" Depth: 19.50" Height: 65.25"
$180.99
Tribesigns Kitchen Island with Spacious Workstation
【Fascinating Industrial Style Island】
Classic, clean lines with rustic brown and black color blocking design, this versatile island create a light, airy ambiance while lending a touch of industrial to your kitchen which will look great even in kitchens with a modern design
【Add Extra Counter Space to Your kitchen】
Measuring 43.31"(L) × 19.69"(W), this Tribesigns kitchen island is designed with the passionate cook in mind, not only freeing up your kitchen countertop but also offering an expansive surface area for prep work. Our utility kitchen prep table helps you to spend loving cooking time with your family
【Handy & Flexible Storage】
Our kitchen baker rack covers your need for storage and more. Boasting 2 large open shelves, 6 side racks, and 12 hooks, it offers versatile storage options for various kitchen necessary items like microwave, flatwares, spice, and other cook's tools. As versatile as stylish, this piece looks great and adds functions to your kitchen
【Not Only A Kitchen Island】
This rustic kitchen island has high practicality, it can be used as a prep table, microwave rack, baker's rack, kitchen storage shelf, and your DIY coffee bar table. 【Take it home to accent your on】trend space with this versatile yet charming kitchen island
Reliable Quality & 100% Warranty- Crafted with a strong metal frame and E1-graded MDF wood, this kitchen island will serve you for long time use; All tools and instructions
Size:43.31"(W)*19.69"(D)*27.56"(H)
$169.99
HOGA-JW0095
Dowler Kitchen Bakers Rack
Reduce clutter in your kitchen by organizing recipe books and kitchen utensils with the Dowler Kitchen Baker's Rack. It's an ideal place for a microwave oven, but could also serve many other purposes in the kitchen and any other room. Made of reclaimed wood and metal, it adds rustic charm with industrial accents to any part of your home. This versatile storage unit features adjustable feet to ensure stability and balance.
Made of reclaimed wood and metal
Frame with matte black finish
Shelves of different sizes for open storage space
Easy assembly
Size:Width: 31.50" Depth: 13.80" Height: 37.40"
$104.99
Tribesigns Wine Rack 9 Bottles, 7 Tiers Wine Table Bakers Rack
Large Capacity Wine Rack
his wine rack with storage can hold 9 bottles, meeting all of the needs of your home wine bottles storage. The wine bar is also equipped with 7-tier open shelves that can be used to place cups, fruit plates, ice buckets, or other kitchen stuff in plain sight.
Wooden Countertop Design
With high utilization, except for wine bottles and wine glasses, you can even place some decorations, books, or your corkscrew. Made of thickened wood and iron, stable and durable, this space-saving wine holder can easily create a coffee bar cabinet area in your living room, kitchen, dining room, or anywhere you'd like to display your favorite bottles beautifully.
Wine Fresh as Usual
Especially horizontal designed bars keep bottles stable and keep the corks fully moisturized so your wine stays fresh; each bottle is accessible and well-protected by the bar cabinet.
Wobble-Free Design
The home bar is equipped with adjustable footpads, if this wine cabinet is put on a little tilt place, the footpads can adjust the balance. The good friction between the wood and the bottle can avoid falling. Each bottle is stored slightly tilted ensure wine to stays fresh longer.
Easy Bottoms Up
This wine rack freestanding floor only takes around 40 minutes to assemble. Necessary hardware and instruction are provided. If there is any question with our liquor cabinet, please contact with us for 18 months warranty.
Size:31.5" L x 15.75" W x 59.06" H (80 x 40 x 150 cm)
$109.97
HOGA-U0057
Tribesigns 5-Tier Kitchen Bakers Rack with Utility Storage Shelf, Freestanding Microwave Oven Stand
The necessity for Kitchen
This baker's rack instantly frees up limited kitchen space, clearly classifying different kitchen supplies and making your kitchen tidy and organized! An essential kitchen rack for daily use.
Enough Storage Space
Come with 5 tier+3 tier storage shelves, this kitchen shelf provides large room for storing vegetables, microwave oven, spice jars, electric cooker, pots, pans, etc, making all kitchenware easy to access.
Multifunctional Use
Not only is it a helpful kitchen utility shelf, but this freestanding kitchen rack is also perfect to work as a microwave stand, bakers rack, spice rack organizer, storage shelf, and bookshelf, practical and convenient for home use.
Heavy-duty Construction
Structured with solid metal frame and MDF particleboard with vintage simplicity look, durable to use, and easy to fit in a home kitchen. Adjustable feet pads to keep stable and protect the floor from scratches.
Easy to Assemble
Simple l-shape design for simplete this kitchen shelf. If you have any problems, please contact us, we will quickly solve your issue.
Size:39.37"L x 15.74"W x 57.08"H
$159.99
e installation, also come with a detailed user manual, it won't take a long time for you to compl
HOGA-U0057
Tribesigns Kitchen Island with Drawers and Storage
【Upgrade Your Kitchen】
Designed with both functionality and aesthetics, this island table can maximize your kitchen space while keeping all your cooking essentials at arm's reach, besides it can also fit into various styles of decorations with its simple and clean appearance
【Dust-proof Drawers】
Designed with 2 large full-extension drawers with recessed metal handles that can provide hide-away storage space for silverware, knives, forks, canned food, and other kitchen necessaries to keep your kitchen organized and clutter-free
【Free up Counter Space】
Features a large countertop( 39.4" L x 15.8" W) which gives you extra elbow room as you prepare meals and dine, and the classic 3-tier shelf with open concept offer plenty of storage space to help keep pots, pans, and mixing bowls within easy reach
【Extended Storage】
Equipped with 3 rows of stemware racks to store up to 9 wine glasses and 4 S-shaped hooks to extend the storage space for kitchen utensils and towels. Keep your go-to cookware, kitchenware, and barware handy and neat with this utility storage shelf
【High Practicality】
Not only a kitchen island, but also can be used as a prep table, microwave rack, baker's rack, kitchen storage shelf, and coffee bar table. Whether you are prepping tonight's dinner or enjoying your morning coffee, our kitchen island has what you need
Size:15.7"D x 39.4"W x 36.2"H
$179.99
HOGA-U0072
Tribesigns Kitchen Island Cart on Wheels, 3-Tier Rolling Kitchen Utility Cart
【EASY TO MOVE & FIX KITCHEN CART】
Kitchen island cart with 5 rolling wheels makes it easy to move freely in the kitchen, dining room, basement, or bar. 2 are lockable casters prevent sliding when stopped. Keep everything in your hand.
【PULL-OUT DESIGN & 3 SLIM SHELVES】
The pull-out drawer keeps your items within easy to reach, when not needed, simply close it. 3-tier different height slim storage shelves stock spices, oils, wine, dry goods to make the most of the kitchen island cart with storage. Come on! Get this 2-in-1 essential space saver for easy access throughout the day.
【SPACIOUS COUNTERTOP & STORAGE】
39.37'' L x 15.75'' W wood countertop table, 2 open shelves, and 3-tier hidden shelves offer plenty of additional storage without taking up a lot of room, this white kitchen storage island making it perfect for smaller houses, apartments, and those simply lacking space in their home.
【ELEGANT STYLE & MULTIFUNCTIONAL】
This two-tone mix and match kitchen utility cart feature a vintage brown tabletop veneer and white wood frame to add elegant beauty decor, which is perfect as a kitchen island, bar cart, microwave bakers rack, coffee table, or dining buffet in the interior.
【SOLID CONSTRUCTION & SIMPLE ASSEMBLY】
This kitchen island cart on wheels is constructed E1 particle board wood panel, 1.45'' thick tabletop for long-lasting durability. And simply comes with step-by-step assembly instruction and necessary tools, help put together within a short period.
Size:15.75"D x 39.37"W x 33.46"H
$169.99
HOGA-JW0216
Tribesigns 5 Tier Kitchen Bakers Rack with Hutch & Cabinet & 8 Hooks
【5-Tier Industrial Bakers Rack】
Combining sophistication with a rustic appeal, this kitchen baker's rack will bring a touch of industrial inspiration to your space. With a compact vertical design, this kitchen stand allows you to access plenty of storage space without taking up too much room. As pretty as practical, this baker rack is an ideal storage solution for the kitchen, dining room, living room, or pantry
【Multipurpose Kitchen Shelf with Cabinet】
This rustic baker's rack with storage has high practicality, it can not only be used as a kitchen storage shelf but also as a microwave stand, pantry cabinet, and coffee bar cabinet. Take it home to accent your on-trend space with this versatile yet charming kitchen rack
【Kitchen Storage Savior】
Plagued by a cluttered kitchen? Or upset about not having enough worktops in the kitchen? This 5-Tier bakers rack with a cabinet will cover all your storage needs. Boasting spacious countertop, multi open shelves, large cabinet, and 8 hooks, it offers ample storage space for various kitchen necessary items like microwave, tableware, spice, and other cook's tool
【Reliable Quality & Solid Construction】
Crafted from high-grade particleboard and solid metal (0.79" by 0.79" width), this tribesigns baker's rack can withstand up to 198 lbs; the adjustable foot pads can be used in the uneven ground and prevent the floor from scratch. Thanks to its robust structure, this kitchen cabinet will serve you for long-lasting use
【Easy to Assemble & 100% Warranty】
You will get detailed installation instructions for this kitchen utility shelves. All parts, tools, and instructions needed are included. Tribesigns offer 12 months of quality assurance and lifetime professional customer service. If you have any questions, please feel free to contact us
Size:31.49"(W)*15.74"(D)*66.92"(H)
$189.99
HOGA-JW0146
What should be paid attention to when placing the bread rack in the kitchen
Convenience and application are the most important
When placing the kitchen bread rack, we need to choose the installation location reasonably according to our living needs, which will affect the convenience of your future use. Based on the principle of ease of use, the racks for frequently used items must be installed in a place where we can reach them, and the racks for items that are not often used can be installed in a distant place, which will make our kitchen look more spatially. Neat and orderly, saves space as well.
Due to the limited space in the kitchen, it is necessary to pay attention to the rational use of space when placing the bread rack in the kitchen. As long as it is placed in place, it will greatly improve the convenience. Of course, we have to pursue a little bit, and we must consider the overall layout and aesthetics of the kitchen.
People also ask these qeustions
What size is a modern bakers rack?
Baker's racks come in a variety of sizes and shapes, typically ranging from 24-36 inches wide and 60-72 inches high, though larger and smaller styles also exist.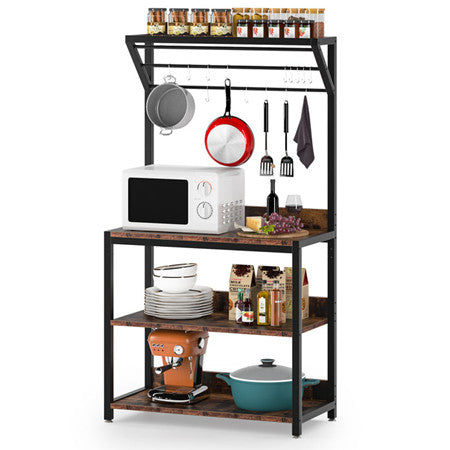 How many shelves does a cheap bakers rack have?
Three shelves, ascending in size, are easy to maintain and ideal for storing dishes, cookbooks, cooking utensils and more.
Can you use a bakers rack in a bedroom?
A baker's rack is one of those pieces that will fit in any room in your home, and who doesn't need versatility like that? I guess everyone doesn't need a baker's rack, but if you have a kitchen with a little extra wall space, or a porch, entry or dining room — heck, even a bedroom — a baker's rack can be quite handy.
This article tells you more information about kitchen bakers rack  from many aspects and I hope you can learn a lot from it.